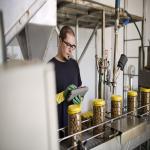 What kind of label application process does your business use? Simply put, do you apply custom labels by hand or use machine application as part of an automatic production line?
When launching a new small business or product, it's important to decide on your labeling method and packaging strategy. The choice between labeling approaches is relatively straightforward, and comes down to the scale of your operations as well as the product type you provide.
If you're in the process of making this decision, you can consider the following facts to find the best match between custom label application methods and your business's needs.
Applying Custom Labels by Hand
If you're starting a do-it-yourself operation creating custom products or you craft items in a small quantity at a time, there's no choice in the matter: hand label application is the way to go. Sheet labels are easy to peel off and apply to your product by hand.
While going with manual application is clearly not as fast as machine application, its simplicity can be a major benefit. You don't have to worry about technical specifications, such as the unwind direction of roll labels, when you and your employees are simply labeling items by hand. With that said, if you expect to switch to machine application in the near future, you can ensure you're getting roll labels that will be compatible with your planned process. There's nothing stopping you from applying them by hand in the interim.
When using hand labeling, you likely need these custom printed labels in smaller quantities than if you were operating an automated assembly line. This means it's important to work with a labeling provider that can offer flexible order sizes, rather than always mandating high volume purchases. Digital printing, which does not require the creation of flexographic plates, enables smaller orders at affordable rates.
Machine Label Application
Labeling by machine gives your brand the velocity and consistency to produce a steady stream of items for store shelves, whether your packaging takes the form of boxes, bags, bottles or anything in between. All it takes to set up an effective production line for packaging is attention to details, such as the unwind direction of labels and the size of the core at the center of a roll. The standard core size is 3 inches.
Machine label application is the way to reach your packaging production goals without excess manual labor, whether your main concern is velocity or quantity. One major consideration for machine application is label liner strength: you have to make sure your product labels' substrates are strong enough to go through machinery.
Polypropylene labels are an obvious choice for toughness, but many paper label material options have also been reinforced to be suitable for machine application. Roll labels made from a variety of different materials, finishing treatments and textures are available for machine application, allowing you to match your company's overall branding strategy.
Getting the Best Custom Labels for Your Business
No matter whether manual or automatic application is the best style for your business, there are a few qualities you should always look for in custom labels.
First, the labels should incorporate great quality material choices so the packaging will stay strong over time.
Second, the printing must be sharp and professional to present your labels in the best possible light, in terms of color, artwork, text and more.
Third, your order should be ready on time, at a rate you can afford.
Working with Lightning Labels is the way to make sure your custom labels suit your company's product packaging needs, now and in the future. Why? Lightning Labels' product label offerings are:
Shipped to you as roll labels or sheet labels.
Available in a variety of material and finish combinations.
Die cut to meet custom shape and custom size needs.
Produced with a digital printing process that enables flexible order sizes and fast turnaround times.
Whether your ideal label is a polypropylene material matte label featuring your company's logo or a paper label with a rough finish and a variety of classic fonts, and whether you want to apply that label by hand or machine, you can get what you're looking for from Lightning Labels.
Get a quote today to start your product labeling journey.