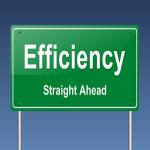 Roll on the Era of Roll Stickers for Your Business
There was probably a period in your company's history when sheet labels met your needs and you didn't think roll stickers were necessary. At that time, you didn't mind peeling off stickers one by one because you used them in such small quantities. That being said, there comes a certain point in a business' life cycle when it makes sense to leave sheet labels behind and switch to roll labels instead. Human beings are naturally averse to change and tend to stick to what they know, but the efficiency and cost-effectiveness of roll labels speak for themselves.
Why Use Roll Stickers?
Roll stickers have multiple advantages over their sheet equivalents. Here's a list of just a few:
Better value: Buying labels in sheets tends to be more expensive than ordering roll labels, even when a company offers low sheet label minimums. Why not buy roll stickers in bulk and redirect the money you save toward improving another area of your business?
Quicker application: Sitting down one afternoon, peeling labels off sheets one by one and painstakingly affixing them to the bottles, boxes, tubes or whatever other form of container holds your wares can be extremely therapeutic once you get into a rhythm - but it can also end up being a huge waste of time. Whatever industry you're in, chances are good that you and your employees have better things to do than manually stick labels onto each and every one of your products. Roll stickers can be fed into label applicators to speed up the process and free up time on your end.
Easier storage: This benefit is the simplest of them all. Think about it: How often have you misplaced a sheet of labels, never to be seen again? It's much harder to lose an entire roll!
Order Custom Roll Labels from Lightning Labels
Whether you're looking for custom roll labels to affix to food containers, bath and body products, nutraceuticals, candles, beer and wine bottles or something else, Lightning Labels can deliver. Our professional-quality labels look just as good as - if not better than - those used by large national brands, so you'll be able to pique consumers' interest without breaking the bank.
Request your FREE instant quote today.