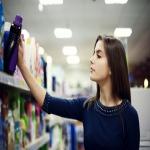 There is no insignificant decision when it comes to designing custom labels for your brand. From graphics and font selection to the kinds of sizes, shapes and label materials you pick, you're making an impact on the way consumers will perceive and interact with your brand. There is real value in creating a harmonized image that furthers a comprehensible and appealing image.
This extends to the laminate you use to finish the labels. The choice between matte labels and high-gloss labels will determine how your products feel in potential buyers' hands. While it's possible to overlook the laminate selection step, making a good decision at this point can put the finishing touches on a harmonized design and help you make sales.
High-gloss and matte finishes differ in a few key ways, making them suitable for different types of brands. The following are a few of the considerations that should inform your choice:
High-Gloss Labels
Glossy labels are the most common type sold by Lightning Labels, a reliable choice that can provide an appealing and professional look for your products. The cost for high-gloss is lower than matte, and it can elevate the appearance of everything from wine bottle labels to food packages or bath and body items. Some of the most popular materials for label production, include White BOPP or shiny chrome.
Matte Labels
Using a matte laminate, while slightly more expensive than going with a high-gloss finish, can add a unique and interesting look to your packaging. Consumers may consider this a more natural kind of finish, and it is interesting to the touch. The fact that glossy labels are more popular than matte ones means the latter can stand out on the shelves, announcing that a product is new or different.
Working With Lightning Labels
Choosing laminates for labels is an important decision in the package design process. Whichever approach you select, however, the next step is easy. Ordering and receiving items from Lightning Labels is simple due to our all-digital process, which enables us to turn orders around quickly and efficiently, paired with our use of domestic facilities instead of outsourcing.
With a wide variety of materials to pair with the aforementioned laminating options, you can select a combination that works with your brand image and compels customers to take your products seriously. When it's time to revamp your packaging strategy, having a partner such as Lightning Labels on your side can elevate your results, delivering impressive quality on a short timeline.
Request your FREE instant quote today.