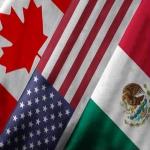 When creating labels for your brand's food products, you have to walk a line between disclosing essential information and creating an appealing look. The regulations that govern ingredient disclosure and nutrition facts lists are complex and multi-faceted, and they're prone to change. The latest addition to packaging could come in the form of mandatory food and beverage warning labels that don't meet healthy standards, with North American Free Trade Agreement negotiations focusing on this sticking point.
U.S. Against New Rules, Canada and Mexico For Them
The contentious tone around the NAFTA renegotiation has spilled into the realm of food and beverage warning symbols, according to The New York Times. Pressure is building around labels that will disclose ingredients linked to obesity, but the U.S. negotiating position favors limiting the NAFTA countries' power to mandate these disclosures.
The Times pointed out that health risk packaging is on the agenda in Mexico and Canada, and they're not the only countries considering such a mandate. Chile has already implemented new rules, and its move is drawing attention in Brazil, Peru, Uruguay, Argentina and Colombia. The U.S. is using the NAFTA negotiations to make sure the revised trade agreement doesn't give countries the power to enforce such symbols across the region.
Canada Forges Ahead
Despite the stall in international labeling changes, Canada intends to press ahead with its local warning labels, according to Global News. Canadian Health Minister Ginette Petitpas Taylor noted there are already differences between labels from one country to another, so there's nothing stopping Canada from enforcing a new code within its own borders.
Compelling Labels Needed
Your company may have to change its labels soon, either to suit upcoming changes in Canada or to get ahead of the curve in other nations. When you refresh your design, it pays to have an efficient and effective partner such as Lightning Labels on your side.
Request your FREE instant quote today.