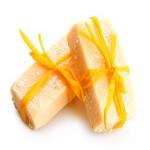 Owning your own business is a fulfilling way to bring products to customers, but it can be isolating. Getting away from the storefront or storeroom for a day and meeting up with other participants in your industry may yield exciting new insights about trends, best practices and possible sources of value.
The Handmade Soap and Cosmetics Guild show provides this kind of collaborative environment for the bath and beauty industry. This year, the conference is in Atlanta, Georgia, on May 3-5, with the potential for intensive seminars on May 2.
Lightning Labels will have a table at the show, so our representatives can demonstrate the potential of high-quality handmade soap and cosmetic labeling. These labels have to be tough to survive in moisture-intensive bathroom locales, but they also have to show off your brand's unique and compelling imagery.
An Annual Tradition
The Handmade Soap and Cosmetics Guild makes sure to vary the location of its show from year to year, to ensure each part of the country gets a chance to conveniently experience the latest and greatest trends from within the industry. Exchanging information with peers is a great way to learn, and three days of enrichment and conversation can leave you informed and energized for the rest of the year.
The guild show houses 600 industry members, and the organization has announced that it expects to sell out of tickets this year - advance registration is suggested to make sure you get a place at the conference. Days of classes are followed with parties designed to aid networking. On the final day, an annual awards banquet caps off the event.
Soap Labels Add Value
Selling handcrafted items means attracting customers' eyes through the products themselves, since you likely don't have the budget for flashy ad campaigns. Soap and cosmetic labels from Lightning Labels are a compelling sales tool, and you can learn about them in person at the show this May.
Request your FREE instant quote today.