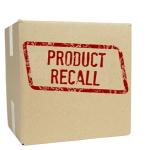 This month, a number of food and nutraceutical products were recalled due to undeclared ingredients and other issues. The following items were among them.
Ranch Salad Dressing from Pinnacle Foods Group Parsippany, New Jersey-based Pinnacle Foods Group recalled more than 8,600 cases of its Wish-Bone Ranch Salad Dressing due to mislabeling. The company issued the voluntary recall after a consumer pointed out that bottles produced on April 23 and labeled as being filled with ranch dressing actually contained another of its products, Wish-Bone Blue Cheese Dressing. Egg, an ingredient in the blue cheese dressing but not the ranch variety, was not listed in the nutritional information section of the label, as the packaging incorrectly pertained to the ranch flavor. This put individuals sensitive to egg allergens at risk, although no adverse effects have been reported as yet.
Spinach Dip from La Mexicana Food Products La Mexicana Food Products, headquartered in Vernon, California, recalled its spinach dip earlier this month following the revelation that milk had not been listed as a sub-ingredient of the sour cream used in the product. Milk is one of the eight foods that cause 90 percent of allergic reactions, according to the nonprofit organization Food Allergy Research and Education. If they consume the allergen, severely allergic individuals may experience life-threatening anaphylaxis.
Sour Caramel Apple Gum from Project 7 Individuals who are allergic to milk may be wary of consuming products such as dip even if they don't see the dairy item listed on the panel of ingredients, but they're much less likely to think twice about something like gum. However, that may change in the wake of a voluntary recall involving San Clemente, California-based specialty gum and mint company Project 7. The company recalled all lots of its nationally sold Sour Caramel Apple Gum distributed between August 20, 2014, and June 11 of this year following the discovery that the caramel flavoring contained traces of dairy.
Chicken Products from Big Easy Foods Louisiana Cuisine Big Easy Foods Louisiana Cuisine, located in Lake Charles, Louisiana, recalled more than 93,000 pounds of its boneless stuffed chicken in connection with an undeclared allergen. Personnel from the United States Department of Agriculture's Food Safety and Inspection Service noticed wheat was not mentioned on the packaging of either the raw or cooked forms of the product, despite the fact that the chicken stuffing included an ingredient that contained wheat. The USDA classified the recall as Class II, defined by the department as "a health hazard situation where there is a remote probability of adverse health consequences from the use of the product."
Sausage Products from Venus Foods California company Venus Foods found itself grappling with a similar issue to the one that befell Big Easy Foods Louisiana Cuisine after a routine label review. FSIS personnel found that the packaging of three variations of Venus Foods' Uncle Lin pork sausage products did not declare the presence of wheat. Outlined by the Mayo Clinic, wheat and gluten allergies can manifest themselves in a number of ways, from relatively minor symptoms (headaches and congestion) to anaphylaxis, which may lead to death. As with the Big Easy stuffed chicken, the recall was categorized as Class II.
Pyrola Advanced Joint Formula capsules from G&C Natural Nutrition More often than not, label recalls involve food products, but sometimes nutraceuticals come under scrutiny as well. This was the case with Pyrola Advanced Joint Formula capsules from G&C Natural Nutrition, which may contain two undeclared substances: non-steroidal anti-inflammatory drug diclofenac and over-the-counter antihistamine chlorpheniramine. Ingesting an NSAID such as diclofenac can pose cardiovascular and gastrointestinal risks, while taking antihistamines can cause drowsiness.
Request your FREE instant quote today.