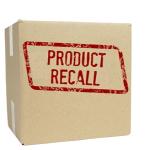 February saw several product recalls hit the headlines for label-related reasons, including the following:
Sunset Farm Foods' and Michigan Brand's sausage products Valdosta, Georgia-based Sunset Farm Foods, recalled more than 42,000 pounds of link sausage products due to an undeclared allergen, according to a recent release by the United States Department of Agriculture's Food Safety and Inspection Service. The items, produced between Sept. 3, 2014, and Jan. 28, 2015, were shipped to consumers and retailers in Alabama, Arkansas, Florida, Georgia, New Jersey and New York. They contain a known soy allergen that failed to be declared on their labeling.
Bay City, Michigan-based Michigan Brand was also involved in a sausage recall, albeit on a much smaller scale. The manufacturer announced that it was recalling more than 4,200 pounds of its Teriyaki Hunter Sausage product produced between June 6, 2014, and February 17, 2015, due to the undeclared presence of hydrolyzed soy protein, according to an FSIS release.
Both recalls were categorized as Class II, indicating that there is "a remote probability of adverse health consequences from the use of the product." Neither FSIS nor the companies have received reports of any adverse reactions as a result of consuming the affected products.
WhiteWave Foods' sandwich crackers Bridgeton, New Jersey-based WhiteWave Foods recently announced a voluntary recall of approximately 61,160 boxes of Horizon Cheddar Sandwich Crackers following a labeling snafu that involved the company's Peanut Butter Sandwich Crackers being erroneously placed in Cheddar Sandwich Crackers boxes. According to a release from the U.S. Food and Drug Administration, the nutritional information on the affected boxes does not list peanuts, as these are not present in the cheddar crackers, although they are obviously a component of the peanut butter variety.
Old Home Kitchens' creme cake Bogart, Georgia-based Old Home Kitchens has issued a voluntary recall of its Sock It To Me Creme Cake after the company discovered that the product, which contains pecans, was being distributed in packaging that did not reveal the presence of the nuts. According to an FDA release, Old Home Kitchens alerted Wal-Mart, the exclusive seller of the cake, and the retailer has since removed the product from store shelves in 30 different states. Customers who already purchased the cake are being encouraged to return it to Wal-Mart for replacement or refund.
These incidents underscore the importance of clear and accurate product labeling, which includes delivering allergen warnings and other pertinent nutritional information.
Request your FREE instant quote today.