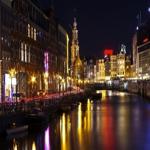 Samsung Trials New Shopping Experience Using Window Stickers
Window stickers are a common sight when window shopping. Stores place decals on windows to alert customers to promotions they're offering, but rarely, if ever, do the window stickers actually let the customer shop from outside the store.
However, that's exactly what new near field communication (NFC) stickers placed on the window of a Dutch apparel shop allow customers to do; it's window shopping - literally. Samsung recently partnered with JeansOnline, a pure-play internet retailer based in the Netherlands, to display NFC stickers on the front of a pop-up store in downtown Amsterdam.
NFC Custom Stickers Growing Trend In Retail Shopping Currently, the ability to buy is extended to owners of Samsung phones who can then tap TecTiles NFC custom stickers or scan an accompanying QR code with a smartphone. Users get a coupon for a free second item after their initial purchase.
NFC is rapidly becoming a favorite for marketers. Mobile device users can simply tap the NFC sticker with their phones to interact with it instead of downloading a barcode scanner needed to process QR codes.
Request your FREE instant quote today.