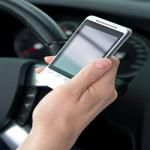 Bumper Stickers Help NY Fire Department Fight Texting While Driving
The Southampton Fire Department, located roughly 100 miles west of New York City, is using bumper stickers to discourage drivers from texting while driving. The department created red customized stickers that feature the wording, "Your Friends at Southampton Fire Dept. want you to stop texting while driving!"
The Southampton Patch reported the campaign to fight cellphone use at the wheel was launched recently after a 29-year-old woman was killed in a vehicle accident on a local county road. The victim was allegedly using her cellphone when she swerved into oncoming traffic and crashed into a bus.
Stickers for Cars Aimed at Fighting Dangerous Trend The department has reportedly created 2,500 stickers for cars and will hand them out to students at fire prevention training sessions held in schools and an open-house event next month. Fire Chief Dennis Roy told Southampton Patch that if the stickers prove popular, the department will order more.
Roy stated he often sees drivers on their cellphones, either reading or typing a text message.
"Some statistics say it's worse than drinking and driving," he said.
Request your FREE instant quote today.