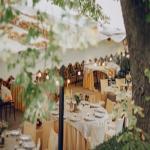 Add Flair to the Ceremony by Customizing Labels On Wedding Favors
As spring gives way to summer, this year's wedding season is officially underway. Every ceremony is unique, representing the unique interests of the individuals tying the knot. On top of their importance to the couples getting married, weddings are also memorable events for everyone who attends. These events bring family and friends together to share the joy and celebration.
If you're planning a wedding, you're likely looking for little elements that will help the day stand out. If so, graphic design innovations for personalized wedding favors such as custom bottle labels for water or wine could be the right choice. These act as a way to tie the celebratory aesthetic together and create a visually memorable reception that establishes a specific tone.
Water or Wine
Handing out water bottles is a common way to keep guests hydrated at a reception, and if you employ personalized water bottles at your wedding, you can turn this simple item into a part of the overall aesthetic. Whatever the theme is, there's a label style that ties in. Metallic materials can create a tasteful look, perhaps evoking old Hollywood. Rougher and more rustic finishes could show off a "real-ness" and down-to-earth spirit.
Wedding favors customized for the event - with the name of the happy couple emblazoned on them - are great to hand out to guests. Bottled water labels turn an average item into such a memento. Water bottles are immediately useful at dinner or after dancing, and they can go home with the guests in case they want a little physical reminder of the wonderful evening.
Wine bottle labels are another example of a personalized wedding favor, perhaps a more elegant and sophisticated take on the custom party favor. At a big enough wedding, there could be enough wine served at the reception to make custom labeling possible. You can also hand out custom bottles of wine that are intended to go home with guests instead of being served on the spot.
Giving a toast from a custom labeled bottle of wine adds one more fancy touch to a wedding reception. As with custom water bottle labels, this ties the whole aesthetic together. If you go with both water bottles and wine with custom labels, they will match one another and the rest of the decorations.
Working with Lightning Labels
At first, it may seem impossible to go with a high-quality, commercial-grade labeling partner for your wedding favors. Won't the minimum order sizes or prices be too high? With Lightning Labels, those concerns dissolve. Lightning Labels uses all-digital processes that enable affordable purchasing of smaller orders and keep costs low despite impressive resolution and a variety of possible material and finish choices.
Getting exactly the look that suits the rest of your wedding decorations is a reasonable goal when you can pick from the many visual options on offer from Lightning Labels. The same company that has spent more than 15 years presenting companies' products in the best possible light can add a classy and sophisticated aesthetic cohesion to your wedding ceremony and reception, all for a cost that won't break your budget.
Request your FREE instant quote today.