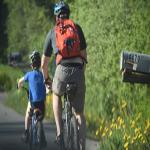 National Bike Month is a Great Time to Think About Custom Helmet Stickers
There's no wrong time to think about creating custom stickers or labels for bike and motorcycle helmets. Indeed, this protective equipment is essential for any rider to remember at any time of the year. However, May has a special place on the calendar: It's National Bike Month. If you sell or manufacture bike helmets or other accessories, you can take this moment to refresh your branding, release decals for helmets or even create bumper stickers for consumers that spread awareness of bike safety.
The possibilities are endless, and with Lightning Labels on your side, you can commit to custom helmet stickers and labels in a remarkably short time. It pays to get your new initiative off the ground while the spring and summer are still dawning and people are uncovering their bikes and motorcycles for the season.
Custom Helmet Stickers for Looks
While helmets for bike and motorcycle riders are primarily for the safety of their wearers, they can also look good. Helmet stickers sold at retail or included with the items themselves allow people to put their own personality on display and show off their hobbies, interests and uniqueness. Companies at all levels of the bike industry can get in on creating these stickers, from manufacturers to specialty retailers and stores that sell or service bikes in addition to other products. Stickers for helmets can cover any number of topics. Shops can produce stickers with their own logos to encourage loyalty and attract new customers. There is also room to invoke local pride, with riders eager to wear the emblems of the places they come from. Motorcycle helmet stickers may be a particularly fertile field. Motorcyclists can cover a lot more ground than bike riders and may be especially keen to salute their regional identity with a customized helmet.
Custom Helmet Labels for Safety Instead of simply using stickers to improve the look of a bike helmet, you can use custom helmet labels applied to the equipment itself or outer packaging to trumpet the health benefits of protecting one's head while riding. You can even tailor the messages on these labels to act as reminders of the laws in various parts of the country. Whether because of legal requirements or the simple need to protect themselves in the event of an accident, everyone on a bike should be in line for a helmet.
Now is the Right Time
With National Bike Month underway, it's clearly a great time to commit to a new set of stickers or labels, whether to promote safety or help riders show off their individuality. Working with Lightning Labels can help you make these plans into reality, as all-digital printing processes ensure short turnaround times and enable you to work with a wide variety of different materials that will suit your project's needs.
As it gets warmer outside, people who had stored their bikes away are getting them out again for another year. This is your target audience for your safety products, labeled and stickered for safety and looks alike.
Request your FREE instant quote today.