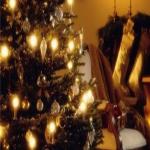 It's Not Too Early to Think About Custom Packaging Ideas for the Holidays
Lightning Labels, custom label and sticker printing leader, is encouraging brands to start thinking about custom packaging ideas for the coming holiday season. With temperatures still at summertime highs, it's hard to imagine the winter holidays coming any time soon. However, much like the back-to-school shopping season was seemingly upon brands just days after classes let out for summer, end-of-year holiday marketing is just around the corner. Manufacturers can prepare by coming up with unique packaging designs early.
"Holiday marketing starts earlier every year," said Julie Mcculley, Lightning Labels Production Manager. "As with any promotional effort, planning early is key. That's why considering ideas for product packaging for Christmas, New Years and other holidays now is extremely important."
Ideas for Packaging to Celebrate the Holiday Season As marketers begin brainstorming how they'll promote their products this fall and winter, here are two ideas for packaging to consider:
Design gift-ready packaging: No matter how early consumers start shopping for the holidays, the season remains a busy one. Between traveling, welcoming guests and planning family gatherings, wrapping presents can be a time-consuming nuisance. Gift-ready products allow them to avoid this bothersome task and can give brands a competitive advantage during the holiday shopping season.
Test out special-edition packaging: Consumer buying can be triggered by urgency, and special edition packaging may help boost sales, especially during the holidays. Consider venturing away from the typical red-and-green holiday mold and try something different. For example, Thanksgiving and the second night of Hanukkah fall on the same day this year, which opens the door to a slew of packaging ideas.
Lightning Labels Brings Product Packaging Ideas to Life While it may seem like brands have quite a bit of time to hash out their product packaging ideas for the holidays, the competition makes it important to start early. Lightning Labels offers a variety of materials for custom labels and stickers that lend themselves to holiday-oriented and special edition runs. Incorporating attractive and informative stickers and labels on products can create gifts with all the packaging they need.
Request your FREE instant quote today.