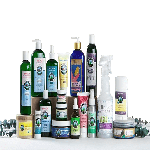 Company Experiences Health Growth offering best of the best
Rutherford, NJ-based Poofy Organics was founded in 2006 following Kristina Gagliardi-Wilson's mother getting a breast cancer diagnosis. Kristina's entire family became determined to use completely toxic-free products. Unable to find any, she and her mother, Nella, decided to start their own company. Poofy Organics carries an extensive line of USDA-certified products, including baby products, body care, cosmetics, essential oils/blends, facial care, hair care, home products, remedies, bath salts, and mouth care.
Among other family members involved in the operation are Kristina's husband, brother, father, and kids. The company name was inspired by her daughter, Mariah, known as Poofy.
"We promise to avoid toxic ingredients such as synthetic fragrance, parabens, triclosan, PEGs, Triethanolamine, Oxybenzone, GMOs and other harmful chemicals! We use recyclable and biodegradable packaging and never EVER test our products on animals. Our products are safe for our world, children, pets, and expectant mothers," notes Kristina.
She adds, "Becoming USDA organic basically makes us put our money where our mouth is. There are very few companies that are USDA certified. Other certifications are less stringent. Anyone can say 'organic,' but it doesn't prove anything. We list every ingredient. We make everything by hand at the facility. We don't use third-party manufacturing or formulation. Everything is here and shipped from here. And, we're on the USDA website, enhancing ability of people looking for products like ours to find us. Along the way, we educate consumers where possible, and maintain total transparency."
Relationship with Lightning Labels, the Custom Product Label Specialist
Kristina points out, "I love Lightning Labels…and their free ground shipping. We've been with them a long time. There are very few companies where you can go online, order, and you're done. I go online, the quote is right there, and I upload files. This is so convenient, and label quality is good. I haven't found anyone that compares. To sum it up, Lightning Labels is convenient, high quality, quick service, and professional…and they're always improving—such as the new website for easier ordering."
Request your FREE instant quote today.