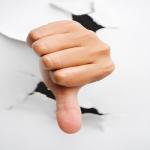 Get Serious with Labels Each month, several food distributors and manufacturers are called out for improper labeling practices by the U.S. Department of Agriculture's Food Safety Inspection Service, and are forced to start expensive recalls on the products involved. Although plenty of these alerts deal with adulteration from various food-borne diseases, many are entirely avoidable given the fact that they begin with misbranding or poor accuracy on the labels themselves.
Companies can save themselves from a world of trouble, stress and financial loss by ensuring that their labeling strategies are tight, properly monitored and always accurate. When recalls occur, it can hurt the brand's image in the eyes of current and prospective clientele, even when the severity of the mistake is not all that dangerous. There were several recalls of note this past month that show how problematic these errors can be.
Losing the Throne The FSIS reported that Royal Frozen Foods was forced to recall roughly 230 pounds of its products for several mishaps that could have been easily avoided. The firm essentially did not have a Hazard Analysis and Critical Control Points plan in place at the time of distribution, which is a requirement under food safety regulations that all manufacturers need to follow before shipping their products.
What's more, Royal Frozen Foods also did not declare an allergen, specifically egg, and did not have USDA inspection stickers on the products given the fact that there was no evaluation by the regulator.
Good, not Great FSIS forced Good Food Concepts to recall a massive sum of its poultry, pork and beef products this month due to misbranding and, like Royal Frozen Foods, the lack of a comprehensive HAACP program in place to govern ingredients declared. According to the regulator, the firm had to recall 12,566 pounds of its products for these reasons, as they contained sodium nitrite without any declaration of the ingredient.
Considering the fact that a relatively small recall can be devastating to the bottom line at the end of each year, this volume will almost certainly put the distributor back a ways in its revenue goals for 2015. Additionally, this could hurt prospects for the firm moving into 2016, even though the undeclared ingredients are not as dangerous as others.
Meatloaf Gone Awry New Jersey-based Taylor Farms had to recall 276 pounds of meatloaf for a lack of accuracy in its brand packaging and declaration of ingredients, the FSIS reported. This particular issue was not only related to misbranding and a missing declaration of wheat, soy and egg ingredients - each of which have become more risky due to allergens in the past few years - but also due to a lack of inspection.
Inspection is not optional, and when distributors do not go through this process they are all but assuring that they will have to pull their products off of the shelves before long.
Looking Forward There were several other recalls due to the inspection issue, but food distributors need to first ensure that they are accurately labeling their products before even getting them evaluated by the USDA. Chances are that these missteps were not purposeful, but rather oversights that could have been entirely avoided with a stronger labeling practices strategy.
In addition to ironing out these policies and putting contingencies in place to ensure that no ingredient that could cause a reaction in consumers goes out undeclared, companies should use a labeling service provider that can follow the orders accurately. Putting a little more effort in these matters can save companies from loss.
Request your FREE instant quote today.