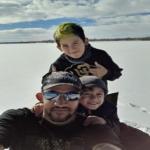 Since 2019, Lightning Labels second shift lead operator Henry Bobbit has had his hands full every day. He helps anyone needing assistance on machines, facilitates communication between departments, and ensures that completed orders ship out promptly. Along the way, he problem-solves, and leads by example.
As the company continues to grow substantially, his role has become even more important. He notes, "We've seen the company grow a lot with many new customers and expanded offerings. When I started, we only had 2,000 dies available; now there are close to 5,000."
To make sure everything runs smoothly, Henry goes the extra mile to help out: "If there's a problem, I help people fix it and pick up as much slack as I can personally. I don't like telling people what to do. I do like helping them out by demonstrating solutions in a hands-on way."
All this benefits customers, and reflects the company's reputation. Henry says, "We aim to get everything out lightning quick, beating not just meeting deadlines. The plan is to get everything out earlier than expected. We have a lot of dedicated teams who work on their days off, stay late, and come in early."
The former New York rewind operator came to Colorado in 2019 looking for a job tailored-made to his strengths and preferences. He had worked in an Albany paper mill for a decade.
Not only did Colorado afford Henry the type of job he sought, the state offered ample opportunity to pursue his love of fishing. "I do tournaments when I can, and won an ice fishing tournament in 2020 at Chatfield Reservoir. As the father of two young boys, I got them interested at an early age. Now, they love the sport," he points out.
Just as he enjoys serving as a teacher with employees, Henry enjoys teaching people to fish—frequently going to Lakewood's Clement Park and Jackson Reservoir. He also is a gardener, citing red roses as his favorite flower.
Summing up his team's strength, he cites communication, noting: "Like in any relationship, communication is key. In addition to monthly meetings, every day when I come to work I look around, talk to the shipping lead, and ask what's needed to ensure everything gets delivered on time."
You might say Henry's always "fishing" around for opportunities to help people.