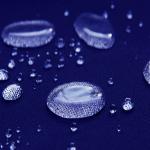 One of the challenges when designing and printing labels and stickers for your brand is coping with harsh environmental conditions. If you could ensure your stickers and labels would always be used in clean, dry environments, you wouldn't have to care about label material and finishing treatment.
Of course, labels and stickers are often exposed to the elements — moisture, oils and other external factors can cause designs to fade, harming your ability to get a message across. This is especially true when you're creating labels for products like garden equipment and bath and body items, which are regularly exposed to potentially damaging conditions.
When you encounter these kinds of scenarios, where stickers and labels must be tough to fulfill their purpose, it's especially important to secure a tough material, allowing you to produce water resistant stickers. With the right label printing partner on your side, you don't have to worry about durability and can get on with the graphic design.
Learn About Water Resistant Stickers
Two of the most common materials you can work with when creating water resistant stickers are BOPP polypropylene and white flexible vinyl. Compared to standard label polymers such as polypropylene, this is a thicker and tougher option. Vinyl stickers can stand up to the elements for extended periods, making them the right choice for your most demanding labeling scenarios, while BOPP is even more versatile.
Comparing polypropylene and vinyl
BOPP stickers and labels: There are several types of BOPP. A clear option allows you to create label designs that give a transparent effect and let the color of your product show through, while chrome and gold variants give your items a literal shine. BOPP is water and oil resistant, making it appropriate for products that are sometimes exposed to moisture. It's good for food, beverage and bath and body labels, as well as stickers such as window decals.
Vinyl stickers and labels: A white vinyl material is a clear choice for outdoor purposes. Thicker and tougher than BOPP, printable vinyl can withstand rain or snow. Bumper stickers and labels for outdoor goods are some of the top applications for vinyl stickers. While you don't have clear or chrome effects, you can still create a distinctive look by die-cutting the labels or stickers into new shapes.
The base label material itself isn't the only factor that determines durability. A label or sticker can also be treated with a laminate to add an extra layer of protection. For example, when creating water resistant labels for outdoor products, you aren't just defending against water and moisture. A UV outdoor gloss finish can protect against ultraviolet rays, helping those labels look great when stored in the sun.
With the right combination of water resistant material and finish, you're ready to produce labels and stickers that will work in settings such as bathrooms and backyards where there's a constant threat of moisture exposure.
Despite their greater toughness relative to less durable labels, these materials and finishing treatments don't require a major tradeoff in versatility. You still gain access to ample design space to print your brand logo, photos or other imagery that your customers will react to.
What Are Water Resistant Stickers For?
Working with vinyl stickers means you can put high-quality branding in front of customers in a variety of settings that might have caused less durable stickers to fade or lose their adhesive backing.
A few of the most prominent uses of tough water resistant stickers include:
Bumper stickers: When attached to cars, vinyl bumper stickers are exposed to the elements every day. Even if customers use these stickers elsewhere — as a laptop sticker, for instance — they'll still have to hold up for a long time in tough conditions.
Brand giveaways: Vinyl stickers, whether they're in a bumper sticker shape or not, are a perfect form of low-overhead marketing for your business. Handing stickers out with a purchase or giving them away for free in public is a way to spread your logo far and wide. Using a tough water resistant material ensures they'll still carry your message for months to come.
Outdoor products: Items meant to be stored and used outside are perfect for water resistant stickers. By die-cutting a vinyl sticker to the perfect shape, you can give yourself design space right on the surface of an outdoor product such as a snow shovel.
Limited-time sale stickers: Stickers can do more than package a product or act as a customer giveaway — they can also draw attention to a limited-time sale price or promotion. You should use a removable adhesive for this type of sticker, so it's peelable at the end of the season.
How Can You Use Water Resistant Labels?
In addition to ordering stickers in any shape or size imaginable, you can also use water resistant materials to toughen up your products' custom labels. If your items are meant to be stored or used in watery or oily environments, this may be an essential step in the packaging design process.
Applications for water resistant labels include:
Bath and body items: From cosmetics to shampoo and beyond, bottles and jars stored in bathrooms are perfectly suited to water resistant labeling. When you invest in durable labels for these items, they'll hold up, even when stored in customers' bathrooms. The clear labels will remind them which brand to buy next time.
Water bottles: A water bottle sticker or label can be a great canvas for your brand, inviting a variety of interesting graphic design decisions. You can opt for personalized water bottle labels created for specific events, getting a brand name in front of attendees at a large gathering or conference.
Lip balm tubes: Since lip balm is designed to last for a long time and be carried around with buyers, a durable label is an important consideration. Using a BOPP polypropylene material, cut into a specific shape meant for lip balm tubes and given a gloss finish, is a way to easily craft effective lip balm labels that will hold up in tough conditions.
Food and beverage containers: All kinds of foods and beverages may end up stored in the kitchen or the refrigerator for a long time and used gradually. These items are at their best when they have durable water resistant labels. These labels can start having an impact early in a product's lifespan, helping it stay safe from condensation during transport or storage.
Why Work with a Professional Label Printer?
When buying water resistant stickers and labels, you need to be absolutely sure you're working with a label printing business that uses high-quality materials and techniques. A lack of care at any step in the production process could lead to custom stickers and labels that don't deliver the water resistant performance you're looking for.
Lightning Labels has been helping companies with their custom-printed labels for over 20 years. Combining advanced digital printing techniques with a wide variety of label materials delivers advanced graphic design options, even when working with water resistant materials such as printable vinyl and BOPP.
Whether you need a case of water resistant bumper stickers, a few sheet labels for hand application or a large number of roll labels to be applied as part of an automated assembly line process, you can meet your needs by working with Lightning Labels.
Find out how these water resistant stickers and custom-printed labels can help your business get its message across: Request a free quote now.