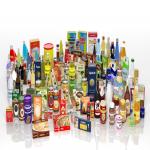 We've all walked through a store saying, "I don't remember the product's name, but it had a cow on it." In a customer's eyes, your product labels are just as important as your name.
Defining a brand is one of the first marketing steps any company should take. But too many businesses miss the importance of putting this brand in *everything* they do.
In fact, your product's packaging is among the most important places to display your brand. Did you know 64% of consumers will buy products based on the packaging alone?
To step up your packaging game, here are a few things to keep in mind:
What to Consider with Branded Product Labels
Your labels need to be consistent with your brand and tell consumers who you are. But there's much more to an effective label. Here are some factors to keep in mind:
Shelf Appeal
Product labels need to do two things - capture attention and inform the consumer. Shoppers see a literal wall of similar products, so your label needs to stand out.
Just be careful to do this in a brand-consistent way. For instance, if your brand is masculine, simple, and no-nonsense, catch attention with bold lettering and colors. Don't do it by adding a crazy cartoon bear.
Material
A strongly branded label goes beyond the artwork to the product label material. A natural fiber conveys an organic, eco-friendly brand. A metallic label can give a futuristic feel.
Choose your artwork and your materials to complement each other. They should work together to build your brand.
Color
The colors in your packaging increase brand recognition by as much as 80%. Think about the Google Chrome icon. Nowhere does it say "Google" or even have a "G," but the colors give it away.
You should define your company's colors before or while you're designing your logo. And these colors should be used in every piece of branding and labeling you release - including product labels.
Core Values
If your brand is based on certain core values, this should be displayed in your labeling. For instance, if you're environmentally responsible, list your distinctions and policies on the label. Or, if you're family-focused, build that warmth into your design.
Branding the Product
Branding does not just apply to your company overall - it applies to each product, too. For example, many breweries give each beer its own personality in both its taste and its label. Founders Brewing Company is a great example to browse.
This is one of the advantages of custom product labels - the chance to make each product stand on its own. You want people to become loyal to your brand, but the first step is making them loyal to one of your products.
Current or Outdated
As the years go by, you need to update your branding to be current. Few things will turn off customers like a product that looks outdated.
You should update your packaging and labeling every few years to bring it up to date. Just make sure you keep your brand consistent in the process.
The Next Step
Now that you have an idea of how to incorporate your brand into your labels, it's time to get started! You can start by browsing the many types of custom label materials and laminates we offer. Or, for more personalized help, contact us to work toward a better-branded product. If you have any questions regarding what custom label materials or laminates can make your products stand out, our representatives can help guide you to select the appropriate materials for your products.
Request your FREE instant quote today.