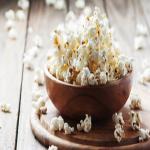 Get New Eyes on Your Popcorn Brand
If you sell popcorn, October is a great time to make an extra push for your products - it's National Popcorn Poppin' Month! The summer is a big season for popcorn as the snack of choice at blockbuster movies and sports games. Now, as winter approaches, this theme month gives you an added chance to draw attention. Time to celebrate with colorful and eye-catching popcorn stickers.
Debut a Flavor or Share a Recipe
There are many ways to celebrate the event. Maybe a fun recipe or new flavor could encourage shoppers to put your brand of popcorn in their carts. This is where popcorn stickers come in - attach these to your items and they'll stand out from competitors that don't do anything special for October. Bold and colorful flavor stickers ensure that browsing consumers won't pass your popcorn by - introducing a new type of seasoning is a great chance to reach out to new customers and draw previous buyers back into the fold.
You can also give shoppers an idea for a new way to prepare your classic popcorn with recipe labels. These add a little extra incentive to buy your brand. If customers want to take the recipe home and try it for themselves, they'll pick the brand with the instructions printed on the label. National Popcorn Poppin' Month is a great reason to introduce this feature to your packaging, and it can become a lasting element, with recipes rotating by season.
Imagine all the great popcorn-based snacks you can suggest as the holiday season approaches. You can even go with more than one at a time. For benefits that go well beyond October, you can also change up the graphic design of your food labels altogether. If your brand's packages are more than a few years old, they may be in line for a refresh, one that incorporates the latest digital printing techniques to ensure they're packed with great imagery and sharp, easy-to-read text.
Another consideration is the changing nutrition facts label. In the years ahead, the values printed on these back panels will have to change to paint a more accurate picture. Best to establish a strong relationship with a labeling provider now, rather than ending up unprepared when it's legally required to make changes to your packaging.
Ready to Go
While October is already underway, you can still get a new look for your brand in record time when dealing with a digital-native, domestically located printing partner such as Lightning Labels. When order times are measured in days rather than weeks or months, quick pivots are possible. Furthermore, all-digital printing keeps costs down even when order sizes are small.
Promoting a special event such as National Popcorn Poppin' Month can mean changing a brand's popcorn labels or adding stickers to packages that celebrate the month. Each of these strategies can be repeated many times throughout the year as the seasons change and new recipes or venues for popcorn consumption become relevant. Be ready for the winter holidays, for the opening day of next baseball season and more as the months pass.
Request your FREE instant quote today.