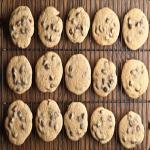 Custom Stickers and Labels are Perfect for Cookies
If there's one thing in this world that doesn't need extra oomph to sell, it's delicious, fresh-baked cookies, right? Maybe - but October is National Cookie Month, and people will have a lot of choices regarding which treats to sample. If you want your baked goods to stand out in a crowded field, it's time to step up and adorn them with cookie labels or stickers.
This month is a great time to celebrate and get the word out about your cookies whether you sell to supermarkets, run your own walk-in bakery, sell at farmers' markets or just give out batches to friends and family. Breaking down strategies by the scale of your operation shows just how many uses there are for cookie stickers.
Manufacturers
If you produce cookies as part of a line of foods to be sold at supermarkets and other major retail outlets, custom food labels designed with National Cookie Month in mind can convince curious shoppers to make a purchase. They might not have decided what to buy when they enter the store, and bright, high-quality labels can convince them to celebrate National Cookie Month. Ideally, they'll come back for more even when October is done.
Bakeries
Even if you mostly sell cookies on your own premises, there's plenty of room to improve the distinctive look of your product lineup with food labels that celebrate National Cookie Month. As you're likely baking up a fresh batch of cookies every day, it's easy to change out the labels and stickers you wrap them in based on the month. National Cookie Month, Halloween, Thanksgiving and on to the winter holidays - each season's imagery can make your products more exciting to the eye.
Farmers' Market Sellers
When you set up a stall at a farmers' market, there's plenty of competition from other vendors. People can browse the aisles without having a solid idea of what they're there for, so draw their eyes to your table with colorful and bold cookie labels and stickers that tell them this is National Cookie Month. Make your baked good seem exciting and it won't be hard to drum up business at this autumn's markets.
Hobbyist Bakers
Even if you're just baking for friends and family, cookie stickers are a great way to reach out. Use personalized stickers to let people know you're thinking of them. Or perhaps you could use homemade goods to promote an event at a child's school or a business in a field other than food. All-digital printers such as Lightning Labels don't charge huge amounts for short print runs of stickers, and allow extreme customization - so professionally made stickers are in your budget.
Now's the time to move on National Cookie Month stickers - October has already begun. Luckily, the natural appeal of fresh-baked cookies will do a lot of the promotional work for you. It's time to add just a bit more flair with custom stickers to let everyone know that you're celebrating a special time of year. With Lightning Labels' quick turnaround times, it's not too late.
Request your FREE instant quote today.