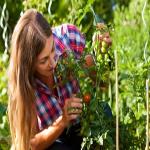 Get Your Garden In Gear!
June is the best time to plant a variety of vegetables, including beets, carrots, corn, beans and more, and many gardeners are looking to take advantage of the warmer months to boost their yields. Manufacturers of seeds and gardening supplies can promote the summer planting season using new custom product labels. This is a highly competitive market that is commonly won or lost on the shelves, and the most unique gardening supply labels will go a long way toward boosting revenues this season.
Gardening is coming into style for all types of homeowners, including those who live in rural, urban and suburban environments, meaning that the opportunities to capitalize will be vast no matter where the target market might be. Custom garden labels will help you boost your brand image in the eyes of prospects and current clientele, all the while giving your products a better chance of being the best-perceived option on the shelves at retail locations.
Considerations for Garden Product Labels
The same old designs will be commonly used by manufacturers and distributors en masse, and you will not be doing your profit margins any favors by sticking to the script with yours. Instead, consider cultivating highly unique and customized approaches to your product label designs and imagery, defying the norm to differentiate your products from those of competitors. This does not mean completely abandoning the imagery that consumers have come to expect, though.
Your product labels need to clearly represent what the package contains and why it is superior all in one fell swoop, and a cookie-cutter approach to designs will simply not help you achieve this goal. Rather, customizing the labels to properly represent the brand, its place in the industry and the core benefits of purchase entail can boost your garden product sales this summer.
Get Moving Now!
The planting season is already underway, and will only last for a couple more months. Make sure you are prioritizing marketing and product management campaigns such as custom labels as soon as possible to capitalize on the opportunities of this season.
Also, consider ordering with Lightning Labels, which offers lightning-fast turnaround times on custom product labels. Lightning Labels puts the creative control in the hands of your design teams so that you can excel in your market.
Request your FREE instant quote today.