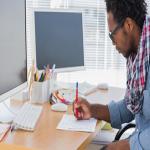 Important Guidelines for Successful Product Packaging
When it comes to the labeling and packaging of your products, there are a lot of factors to take into consideration. And while there are certain strategies that can be used for specific labels, there are also a few general rules of thumb that can be applied to virtually all labeling projects. Below are some tips to keep in mind when designing a product label.
DON'T:
Assume what works for others will work for you. Just because there are certain marketing and packaging trends you see many well-known brands adopting, that does not automatically mean those are tactics you should use as well. When it comes to creating custom labels, nothing is as important as your target audience's tastes and preferences. For example, if you are trying to market to an older age group, using bar code label technology or modernistic designs may not be the way to go. Just because something is popular does not mean it is effective.
You also shouldn't try too hard to follow a trend that doesn't work for your product. For example, Natural Product Insider named clean labels as a top trend for 2016, but taking that approach can backfire. Which brings us to our next point...
Make claims you can't back up. It's no secret that using eco-friendly or green labels on products can enhance their appeal. But it would be a huge mistake to make a health, environment or any other type of claim on your product's labeling if you can't verify the validity of that statement. Consumers and regulators are growing increasingly skeptical of misleading advertising and labeling tactics - cracking down on organizations that are being dishonest in anyway. Don't compromise the reputation or credibility of your brand just because you want to tell consumers what they want to hear.
Try to fit too much at once. When designing a label, you only have so much room to work with. You want to make the most of the space and, to do that effectively, you need to focus only on what's most important. Keep in mind that this won't be the same for everyone.
Go with the first company you come across. Once you know what you want your labels to look like, you are going to feel really excited about getting your labels printed. However, don't go with the first business you find. Be careful in choosing a company because it will end up playing a pivotal role in the efficiency and success of the label designing process as well as the finished product.
DO:
Get creative and tell a unique story. Your product packaging is your opportunity to stand out from competitors. One of the best ways you can do this is by including something unique and compelling about your business that sets you apart from others in the industry. Consumers want to know the story and history of companies they work with - so it is a good idea to include a personal touch that can humanize your brand.
Make sure you know important regulations and policies. As we have seen many times in the news recently, failing to comply with certain industry regulations can have damaging consequences. Just because you are designing your own custom label as an individual seller, that does not mean you shouldn't be well-versed in the safety standards and policies pertinent to the goods you offer. One of the ways you can do this is by checking with the U.S. Food and Drug Administration website about the pertinent requirements that apply to the product you're selling specifically. Ensuring you include the appropriate statements and information can significantly enhance the validity of your product and reduce the chances of you running into legal issues down the line.
Choose the right label material. In addition to the colors, graphics and verbiage used on your label, the type of material can have a powerful effect on its overall appeal. The type of adhesive you use can help set it apart - but choosing the right one is also important because you want to make sure it doesn't prematurely deteriorate.
Use a printing company that specializes in custom labels. There is no shortage of printing companies you could use, but you will have a much better experience if you work with one that specializes in custom labeling. Not only these providers offer you a larger selection of materials and adhesives to choose from, but you will also be able to leverage best-in-class features and technologies that are specific to product labels. Plus, if you need guidance or help at any point during the process, they will be able to offer the guidance and expertise you need.
Request your FREE instant quote today.