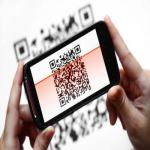 Do you want to add some context to your packaging? Do you have extra information or multimedia experiences to share with your customers? One of the best ways to give your items some additional appeal is to print QR codes on labels.
These codes, when scanned by an ordinary smartphone camera, can link to online resources that provide entertainment, education and everything in between. QR codes can aid in compliance and supply chain tracking or be the gateway to more customer engagement. Not bad for tiny black-and-white squares.
QR Codes on Labels: What Are They?
QR codes are a kind of barcode. Specifically, they're an example of what's known as a 2D barcode. Unlike 1D barcodes such as the ubiquitous Universal Product Code, QR codes can store letters as well as numbers. This allows them to include URLs.
After pointing a smartphone camera at a QR code, people may be prompted to click on the included link and go to a web address containing whatever you want. This might be more information about your items, or a detailed description of the products' movements through the supply chain. It could also be an entertaining video or piece of interactive content.
What Have Companies Done with QR Codes on Labels?
QR codes on labels open up new possibilities for your packaging by acting as an infinite canvas for your ideas. These can be practical or fun. A few of the most common uses include:
● Enabling clean, low-text label design: As Small Business Trends explained, you can clear space on your product labels when you include wordy warranties and other information via QR code. Every square inch of space saved allows you to include more graphics or negative space, making for an eye-pleasing design.
● Meeting regulatory needs: In fields such as recreational cannabis, QR codes can link consumers and regulators with important information such as lab certificates of approval. Cannabis Industry Journal recommended these codes as a way to meet traceability mandates.
● Encouraging more action by customers: The great thing about using QR codes to link customers with websites is that those sites don't just have to be static lists of information. Small Business Trends noted that you can include a registration or testimonial page at the end of a QR code link, or an email mailing list subscription form.
In short, anything that you can do with a URL link can be brought directly to your customers with QR codes on labels. Companies are already using 2D barcode technology to encourage deeper connections with their customers, and you can do the same.
How Can Printing QR Codes On Labels Help Your Brand?
There are applications for QR code label use that go beyond products on store shelves. Since these barcodes are so versatile, you can also employ them to store internal inventory or logistics tracking data. Scanning QR code stickers in a warehouse or distribution center can help your personnel follow shipments from manufacturing to retail.
To get started with QR codes, you need a reliable label printing partner, one that can provide clearly visible codes for easy scanning while also meeting all your other label design needs. Product labels that incorporate QR codes should combine the 2D barcode label technology with high-quality imagery, printed on the best available label materials.
Lightning Labels is the ideal partner for your QR code label printing project. Whether you're seeking to maximize the interactivity of a product label, comply with tracking requirements, create an inventory management system or any purpose in between, Lightning Labels delivers the fast turnaround times, high-quality printing and flexible order sizes you need.
Request your FREE instant quote today.