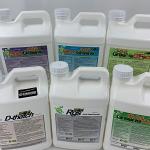 John Perry, President/CEO and founder of Greene County Fertilizer Company, which includes the N-Ext™ brand and Bio Green® fertilizer brand, lives, studies, and talks lawn and garden care.
Bio Green USA has been marketing ready-to-use lawn and garden products for professional use through designated service providers since 2005. In 2014, John founded Greene County Fertilizer Company, a manufacturer and supplier of soil amending fertilizers, as the "child" of Bio Green USA. Today, roles have reversed, as the Bio Green® brand is now under the Greene County umbrella. The company is based in Greensboro, GA.
John has spent a quarter-century studying soil enhancement. "In the beginning, I looked at more efficient ways to accomplish greater gains—social function, interaction, nutrients, the best combinations—the whole unit. This went beyond plant food, looking at overall water quality, lowering potential for nutrient runoff, and bringing a biological balance back to the soil," he notes.
Today's line of bio-based products is a complete macronutrient and micronutrient package for turf, bedding plants, trees, and shrubs for professional service providers and the do-it-yourself consumer market.
Along the way, John launched the Lawncology® website, conference and YouTube Channel, based on articles he's written. He points out, "The Lawncology® conference has gained in attendance each year since inception. It was designed to be a place of learning and peer building. I have worked to bring greater sharing to the industry and have other professionals talk about their successes and failures with others in the industry in order to help each other grow."
Regarding where his industry is heading, John says, "The fertilizer industry is a growth market (pun intended). It will continue to grow both professionally and from the do-it-yourself market. It's unclear which of those markets grows faster. As the housing market grows and more people work at home, there will be a rise of DIYers. If people go back to work, the service side will grow faster. Either way, as long as there's grass, this market will keep rising."
Relationship with Lightning Labels, the home and garden digital printing specialist
John points out, "Lightning labels has been a part of our home and garden label packaging since day one. We have had nothing but great service and quality. As a manufacturer who has grown from a small garage to tens of thousands of feet of production facility, I want to stick with the folks that supported me from the beginning and have grown with me. It's awesome to have long-term business partners that will take care of you right when you need it and will always answer the phone when you call. Lightning Labels will be right here with us as we continue to grow for years to come."
Request your FREE instant quote today.