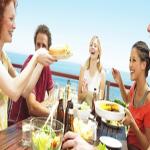 Give Beverages a Refreshing Makeover with Custom Beverage Labels
Lightning Labels, a custom label and sticker printing leader, encourages manufacturers and consumers to prepare for the warm weather around the corner and the summertime happenings that go along with it. Party planners, families and friends will soon ditch indoor events in favor of cookouts, and what better way to make a splash than with custom beverage labels that depict themes of the season and details about specific events?
"May is National Barbecue Month, and people are taking advantage of the sunshine by planning cookouts of all sizes for their groups, corporate parties, weddings and family reunions," says Julie Mcculley, Lightning Labels' Production Manager. "Manufacturers can attract thirsty consumers' attention with custom water bottle labels, wine labels and beer labels that make them a perfect addition to small cookouts, large barbecue events and everything in between."
National Barbecue Month creates customization opportunities not only for the manufacturers that create these seasonal labels and correlating marketing campaigns, but also the consumers who are throwing the parties, planning the events and hoping to give attendees a truly unique experience that is befitting of the celebratory mood.
How to Make Custom Beer Labels Stand Out from Other Brews and Blends Not much goes better with barbecue on a hot day than an ice-cold beverage, whether it's bottled water, a bottle of frothy beer or a chilled bottle of white wine, as all are perfect for sitting outside on a warm day and staying refreshed. Here are three ways manufacturers and consumers can work with Lightning Labels' lightning-fast team to create refreshing beverage and custom beer labels that effectively market a company, product and gathering:
1. Include Must-Have Information on Custom Bottle Labels As practical as custom bottle labels are to promoting manufacturers' and consumers' events and messages while still remaining attractive, it is imperative they are informative as to the nature of the product and its ingredients. This is certainly important for alcoholic beverages, but applies to all beverages. Include helpful copy that tells consumers - especially event guests, family and friends - where the beverage was bottled, what ingredients it includes and what special care, if any, should be taken when consuming it.
2. Get Creative and Educational with Designs for Custom Wine Labels If manufacturers sell seasonal wine that is meant to be enjoyed in the warmer months of the year, they can let consumers know with eye-catching springy graphics, designs and color palettes. Consumers who want to tie wine and other beverages into their special events - like cookouts and class or family reunions - may choose to incorporate the theme or design into these labels, perhaps adding other helpful information like recommended pairings and preferred storage temperature.
3. Don't Settle for Any Old Custom Labels for Bottles Not all custom labels for bottles are created the same, which is why it's important for manufacturers and consumers alike to do their homework when designing and ordering custom labels to adorn beverages on shelves and at festive events this spring and summer. Make sure the labels can withstand ice bins, heat and picking fingers - the last thing people need are remnants of messy labels and ink all over their hands, especially when they're celebrating and eating with family and friends.
Request your FREE instant quote today.