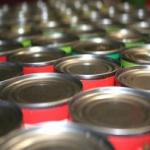 Canned food is currently more popular than in recent memory. Shoppers going to stores amid uneven and uncertain re-opening processes are interested in visiting the supermarket less often and bringing home packaged food that will last for a long time. For food manufacturers, this is both an opportunity and a challenge. Is your company doing enough with its custom canned food labels to stand out from the competition? How much of the increased audience will you be able to capture?
Custom Canned Food Labels - Seizing the Opportunity
As Bloomberg news recently reported, there are several reasons why consumers are gravitating toward cans right now. The news provider focused on the canned meat market, where products such as Spam and corned beef are facing unprecedented demand. Some of the motive is financial: With the pandemic introducing harsh economic conditions, people are seeking affordable meals. The fresh meat supply chain has experienced recent disruptions and related price spikes. Other motives include nostalgia and a desire for comforting foods, leaving another opening for canned goods.
It's especially important to make a strong impact in the canned foods space because as long as you keep prevailing trends in food consumption in mind, you can find lasting success in this segment of the market. Research And Markets found the canned food market is set to grow at a compound annual growth rate of 3.86% between 2020 and 2025. Ease and convenience are enduring selling points for canned foods, and these motives have been driving consumers to pick canned fruit, vegetables and seafood in addition to meat.
As for suiting customer preferences in the years ahead, the enduring interest in conservation and green products will be an influential factor. This means you should ensure your cans are easily recyclable and this fact is clearly stated on the labels. You may also find benefits in expanding beyond cans to add pouches and bags to your lineup of goods. Research And Markets reported there has been a surge in demand for tuna in pouches, for instance. In this case, the general principle behind designing attractive products remains, you will simply have to change your focus to custom food bag labels.
Reaching your audience may depend on your use of custom canned food labels. In supermarket aisles, your products must share space with numerous similar competitive offerings. Having the most eye-catching and appealing custom labels on the shelf could help you convince customers to buy.
Designing Ideal Custom Canned Food Labels
Custom food labels should deliver all the information shoppers want and need in a legible and clear manner. This includes the elements mentioned in federal and state labeling requirements, such as the Nutrition Facts label, ingredient list and serving size. People in stores want a quick and easy way to scan a list of ingredients and detect potential allergens. If your labels' designs foreground this information, you're preventing lost sales that would occur when shoppers get tired of looking for a needed fact and move on to another brand.
Of course, creating ideal custom food labels isn't just about meeting requirements and obeying restrictions. You should also ensure your labels feature eye-catching designs prominently showcasing your brand's imagery. A compelling logo can serve to promote your whole line of goods simultaneously, while photographs or illustrations can promote the items inside the cans.
Working with an expert labeling partner is one way to make your products look more compelling on store shelves. Lightning Labels offers sharp, all-digital printing that leads to vibrant, attractive products. With committed customer service, fast turnaround times and flexible order sizes enabled by the digital nature of the printing process, Lightning Labels has helped companies of all sizes improve their products' appearance for nearly two decades, and can do the same for you.
Request your FREE instant quote today.