Healthy Resolutions Call For a Closer Look at Nutraceutical Labels in the New Year
[caption id="attachment_4754" align="alignleft" width="168"]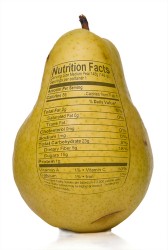 Manufacturers may consider customizing their sticker labels to better reflect their products.[/caption]
A new year may mean a fresh new look for your nutraceutical labels. With the winter holidays an increasingly distant memory, consumers are ditching the candy canes and eggnog and zoning in on their resolutions for 2013. Roughly half of Americans make New Year's resolutions, and of among them, nearly 40 percent set goals pertaining to weight loss, according to MSNBC. This means millions of consumers are keeping their eyes out for products that represent a healthy lifestyle and are becoming more aware of the nutritional value and ingredients in the food, drinks and supplements they see on store shelves and online. By revamping your nutraceutical labels, you can ensure your product is getting the attention it deserves from health-conscious shoppers.
The Labels Say It All
Many manufacturers fear spending too much time and money on printing nutraceutical labels; however, the ingredients list, nutritional value and instructions have an incredible ability to lure consumers to your product. Consumers are more focused on their weight loss goals now than they will be at any other point this year. As they shop, they're looking for products to help them keep their resolution. Consumers are reading the packaging and looking for buzzwords like "diet," "healthy," "natural," "metabolism" and "weight loss." Customized labels are key in letting customers know your product is part of the lifestyle they seek.
Digital Printing Provides High-Quality Labels at a Low Price
To ensure your products are reaching your target audience and meeting government regulations, high-resolution digital printing technology can place the tiniest text on labels cleanly to make information legible.
Creating eye-catching labels and stickers is easy, and digital printing does it all at an affordable cost. This means businesses of all sizes can benefit from customizing their product packaging to efficiently market to the right consumers.
Think you have to order a gazillion labels to embellish your product? No way. Digital printing makes small and large orders affordable and economical. Manufacturers can order a minimal sample to test labels, which allows them to experiment with branding without investing a fortune.
3 Ways to Spruce Up Your Nutraceutical Labels This Year
The new year is a perfect time to jazz up your labels by revamping the way they deliver nutritional information.
1. Add a Little Color Using colors can help consumers better understand information on food and beverage packaging, according to Food Product Design. Research published in the Nutrition Reviews journal found when labels incorporated text and color to indicate high, medium and low nutrients, the information was easier for consumers to understand compared to numbers like grams per serving. Using color scales and placing high-nutrient information in darker hues can help consumers better understand your product's benefits.
2. Think Bold Using bold print can draw attention to ingredients listed on a product's label. People tend to associate items that are natural and/or organic with wellness. It's therefore, a good idea to bold these ingredients in addition to others that are known to help with weight loss, like green tea extract.
3. Let the Contents Drive the Packaging Manufacturers may consider customizing their sticker labels to better reflect their products. For example, energetic colors like deep orange and fiery red give metabolism-boosting or energy-increasing products and packaging a lively feel. Meanwhile, for a product that is herb- or plant-based, marketers may choose earthy greens to reflect the item's ingredients.
Resolve to bring the right kind of attention to your nutraceutical labels in the new year. Digital printing lets companies customize intricate labels without having to worry about color limits, set-up fees or plate costs associated with yesterday's costly and time-consuming printing methods.
Request your FREE instant quote today.