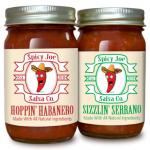 Product Description
Salsa labels can adhere to any jar and contain just about any information or images you want, whether it's a company logo, a product description or even a custom graphic. Thanks to the experienced team at Lightning Labels, you can customize salsa labels for all your needs. These labels can be affixed to jars of all shapes and sizes and promote a new product or to give a friend or family member a unique gift.
Businesses want to increase sales and attention, and packaging is the best marketing vehicle they have. Salsa labels can be used for products sold in a retail store or for homemade salsa, and with high-quality labels from Lightning Labels, it will be easy to stand out from the crowd. The experienced printing professionals at Lightning Labels will ensure your salsa labels are vibrant and won't peel off or fade in the refrigerator.
How a Salsa Label from Lightning Labels Will Spice Up Your Product
Lightning Labels delivers unmatched benefits and value, including:
Free ground shipping in the U.S. and Canada*
24-48 hour turnaround**
No set-up fees, no plate fees, and no added fees for unlimited color!
Free printed press proofs*** for all custom labels and sticker orders, in addition to PDF files
100% satisfaction guaranteed!
Delicious homemade salsa can attract a crowd, but the salsa label is what will really make your product pop. Whether you are making mild or spicy salsa, Lightning Labels makes it possible to get as many or as few high-quality labels to match your product, and you won't have to break the bank.
If you are trying to spice up a new salsa, the experienced printing team at Lightning Labels can help bring your ideas to life.
Call Lightning Labels to Design Salsa Jar Labels Today!
Lightning Labels' custom salsa jar labels can be designed using a variety of high-quality materials, including:
White, clear and silver BOPP (a Polypropylene material)
Earth-friendly PLA
Textured materials that won't crease when applied to a jar
And more!
In addition, further customization may include variety of finishes, sizes and shapes, including rectangle, square, oval and circle.
Free Stickers and Labels Sample Pack
Lightning Labels offers full-color digital printing. Check out our custom label samples and sticker proofs for quality assurance and design ideas.
Click here to request your free sample
Lightning Labels has been servicing the printing needs of our customers for more than 10 years. We are extremely proud of our BBB rating (A+) and guarantee your experience with us will be a positive one.
Call us at 888-907-3004 today to place your salsa jar label order and watch sales heat up!
*on regular priced orders **following proof approval ***shipping charges apply