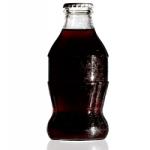 Public Advertisements Featuring Sugary Beverages Will Soon Require a Warning As of July 25, makers of soda and similar sugary drinks will be required to include a warning on billboards and other types of publicly-displayed advertisements in San Francisco, The Wall Street Journal reported. Although companies in the industry attempted to have the court intervene, they were unsuccessful. This is the first city in the country to compel displays advertising sugar-added beverages to have a label warning of possible effects it could have on a person's health.
According to the source, the cautionary statement will read, "WARNING: Drinking beverages with added sugar(s) contributes to obesity, diabetes, and tooth decay. This is a message from the City and County of San Francisco." In July, a civil complaint was filed by The American Beverage Association, with support from The California State Outdoor Advertising Association and the California Retailers Association. The organization argued to the U.S. District Court for the Northern District of California that this new policy does not adhere to the First Amendment free speech right. However, The Wall Street Journal reported that U.S. District Judge Edward Chen found this position to be unfounded and lacking in merit, ultimately denying the request.
"We are disappointed in the Court's ruling on our motion for a preliminary injunction as we believe that the City of San Francisco's mandate violates the constitutional rights of a select group by unfairly discriminating against one particular category of products, based on one ingredient found in many other products,'' The American Beverage Association said in its statement.
Leveraging Labels to Address American Health Issues Although The Wall Street Journal revealed that the warning labels aren't going to be required to be printed onto the product packaging itself, they will cover 20 percent of advertisements displayed publicly throughout San Francisco. The city officials have apparently taken the issue so seriously that, in June, they prohibited the purchase of sugar-added beverages using city funds. San Francisco would have likely banned ads for sugary drinks being placed on any property owned by the city, however the ordinance was challenged and eventually dropped.
Enforcing health warnings on sugary beverages is just one instance of the broader effort being made by various lawmakers and regulators to improve the obesity and diabetes epidemic. Last year, the Food and Drug Administration proposed a Nutrition Facts label update for food packaging. In its announcement, the agency said some of its changes would include adjusting serving size and new labeling requirements, adding a percent daily value for added sugars and modifying the Nutrition Facts label design and footnote.
Consumers are increasingly demanding that food companies use product labels that are informative and honest. As shoppers continue to be health-conscious, it is likely that government agencies and policymakers will continue to develop ways to practice better regulation and governance over packaging. Similarly, it is going to be essential for food- and beverage-makers to verify the printed labels on their products are not misleading and don't contain an inaccurate health claim that could lead to legal ramifications.
Request your FREE instant quote today.