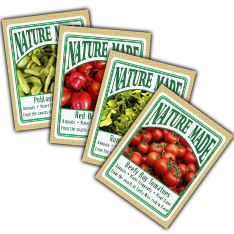 Product Description
Businesses often depend on labels to give consumers a clear and attractive picture of the product they're buying. Relying on a sub-par label, as opposed to Lightning Label's high-quality ones, can prove to be the difference between earned business and lost customers. This goes especially for gardening and outdoor companies that sell seed packets.
Customers can't always buy full-grown flowers and plants, meaning they'll consult seed labels for an idea of what they can expect. In order to generate business, companies have to ensure their seed labels are of the highest pictorial quality, something that's easily affordable and achievable when working with Lightning Labels.
Creative Seed Packet Labels Done Right With Lightning Labels
Lightning Labels takes a sincere interest in our clients, and much like a full-grown flower, Lightning Labels wants to see customers' businesses bloom when ordering our seed labels, which is why we also offer:
Free ground shipping in the U.S. and Canada*
24-48 hour turnaround**
No set-up fees, no plate fees, and no added fees for unlimited color!
Free printed press proofs*** for all custom labels and sticker orders, in addition to PDF files
100% satisfaction guaranteed!
Whether you sell sunflowers, petunias, hydrangeas, pine trees or any other flora in the book, seed packet labels are a vital aesthetic and educational element to packaging.
Businesses that order from Lightning Labels don't need to fret over the quality of their labels. By using advanced digital printing processes, we are sure to deliver on labels that are expertly rendered and designed to fit vendor needs.
Our capabilities even allow for seed-sellers to print small, yet legible print on seed packet labels that could be used for watering schedules or other directions.
Customizable Options for Your Seed Labels
Square, rectangular and circular shapes
High-gloss laminate
Textured materials
UV outdoor gloss
And more!
A variety of different sizes, label materials and colors are available to choose from, as well as font and design elements.
Free Stickers and Labels Sample Pack
Lightning Labels offers full-color digital printing. Check out our custom label samples and sticker proofs for quality assurance and design ideas.
Click here to request your free sample
Lightning Labels has been servicing the printing needs of our customers for more than 10 years. We are extremely proud of our BBB rating (A+) and guarantee your experience with us will be a positive one.
Call us at 888-907-3004 today to place your seed labels order and watch sales skyrocket!
*on regular priced orders **following proof approval ***shipping charges apply