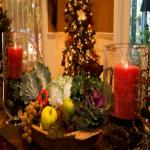 Brighten Up the Holiday Season with Candles
Candles bring personality to a room at any time of year, but they gain a little extra sparkle around the holidays. A festive family gathering or a quiet winter night feels that much more special with candles, so if you manufacture or sell these products, don't let the season go by unmentioned. There's plenty of changes you can make to candle labels that let buyers know how great they'll look around the house this holiday season.
Market Candles Right on their Labels
If you just manufacture candles instead of also selling them at retail, using custom candle labels ensures that they'll have a festive feeling no matter where or how they're displayed for sale. Holiday labels can help your brand stick out from others, and this may be a critical differentiator. When customers head into a store to decorate for the holidays, they likely haven't decided on what brand of products to bring home with them. There in the aisles, you have a chance to make a sale through great-looking packaging.
Custom holiday labels with bold, colorful imagery can give great suggestions about how candles should be displayed around the house - as well as important safety information. When you work with a labeling partner that provides high-quality service, you'll be able to balance attractive pictures, your brand's distinctive logo, and all the explanatory and sales text you need. These all-in-one labels are functional and compelling and can convince undecided shoppers which brand they should buy.
After the holidays, you'll likely need a slightly different labeling strategy, but this is an opportunity rather than a problem. If you work with an all-digital printer that allows smaller print runs at reasonable prices, you can purchase just what you need for the holidays - and make another order for the items that will go on shelves in January and beyond. Those candles may look best with wintry branding that doesn't include holiday imagery. There are still plenty of cold months ahead once the holidays conclude, and candles that promise to light up and add sparkle to the rest of winter may go over very well on shelves.
Time to Order
While the holiday season is some time away for consumers, retailers are already in the full swing of preparation. Whether you work in manufacturing candles or selling them, you're probably already in holiday mode, and may, therefore, think it's too late to add a holiday packaging strategy to the mix. However, with Lightning Labels, you can change your brand's look in a proverbial heartbeat.
Lightning Labels uses all-digital printing methods and produces orders in its own domestic facilities instead of outsourcing. These decisions have made it possible to send out batches of labels and stickers in days, rather than weeks or months. There is still time to get holiday-branded items out the door and have them on shelves for customers to admire. Their homes will be a little brighter around the holidays with the glow of candles, and attractive labels are your big chance to convince them of this fact.
Request your FREE instant quote today.