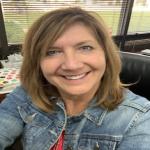 It's not often these days that someone stays with the same company for 32 years. Julie Waldrop, Lightning Labels' senior manager of business & client services, is the exception.
Working in different companies under one organization umbrella, starting with a Dallas printer, she has experienced the evolution of printing from the "old days of plates, changes and accompanying expenses" to today's highly efficient and cost-effective digital printing platform. "Digital printing has seen a big transformation over the years, with smaller quantities and more versions available for a reasonable price," she notes.
"We've expanded to three shifts to cement our position as a top custom label printer. I love my job. The whole team is amazing, and leadership is great. The future of Lightning Labels keeps me from wanting to retire."
Julie's primary job focuses on guiding the account management team in working with customers and helping address issues. "I like them to self-manage, but I'm always here to give ideas. I like it when they come to me with a suggested solution and we go over it. We continually improve customer service with training, weekly meetings, problem-solving exercises, and moving forward with the shared core value of offering the best customer service experience in the industry," she says.
As empty-nesters, Julie and her husband enjoy traveling. They own a house in Fort Myers, FL for cold-weather getaways and have a bucket list of places to visit from the east to west coasts, including the southeast and Grand Canyon. They also have a "dream to buy an RV and visit all the beautiful places in the US," she adds.
When in Colorado, they enjoy the company of their children, from the youngest attending CU Boulder to others, spread out between Austin, TX and Erie and Commerce City, CO. Julie and her husband also spend time with five grandchildren aged 3-9.
The remainder of their free time is spent hiking, exercising at the recreation center and taking pickleball lessons, cooking, gardening and following their favorite sports teams including the Broncos. She notes, "We heard about pickleball through the rec center in Broomfield. It's actually really fun, social and friendly. We see players in their teens up to people who can barely walk. Everyone moves at their own pace."
She adds, "Overall, we're redefining what life is like without kids in the house. My husband loves to cook. Lately, he's been into smoking meats from jerky and turkey to pork shoulder on a smoker purchased a couple of years ago. We have a great garden," which contributes vegetables to the menu and flowers for aesthetic appeal.
Julie clearly is in it for the long haul, both in her livelihood and life.
Request your FREE instant quote today.