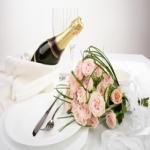 As Valentine's Day Approaches,Shoppers Scan Wine Bottle Labels for Inspiration
With the most romantic day of the year just a couple of days away, people are wracking their brains - and examining wine bottle labels on the shelves - to come up with the perfect Valentine's Day gift ideas for their other halves.
Wine is synonymous with romance - especially pink varieties, such as rosé and White Zinfandel. As Wine Vibe explained, rosé is most commonly made by adding red grape skins to juice for just long enough that the liquid turns dusky pink. If the skins aren't taken out in time, the pastel hue quickly turns into a passionate red.
Meanwhile, White Zin was created as the result of a happy accident: In 1972, Sutter Home Winery's Bob Trinchero's attempt to make Red Zinfandel was scuppered by the phenomenon of stuck fermentation, meaning the yeast in the juice died before consuming all the sugar. He put the mixture aside for a few weeks, and when he checked up on it, he found it had become a beautiful blush color - and was pretty tasty, too! With that, White Zin was born, and it continues to be one of Sutter Home Winery's most popular products to this day.
Pink wines are great, but they're not exactly a personal gift. In fact, it's safe to say that wine, alongside candy and flowers, is one of the most common Valentine's presents out there, which isn't ideal when you're trying to impress your sweetheart.
Bottle Labels Hold the Key
That being said, there is a way to give wine as a gift and still score highly in terms of personalization, and it involves bottle labels. Typically, the labels on bottles feature a design or logo, recommendations for how, when and with what to serve the wine, ingredients, country of origin, vintage year, etc. Boring, right? Not if you customize the labels.
Assuming you've been dating for more than a couple of months, you can use the space where the vintage year would usually be printed to fill in the year you and your beloved first met. For serving suggestions, consider something like "Best served in the company of each other." Instead of country of origin, list your home country, state or town. Depending on how creative you are, you could come up with a unique logo that represents the two of you as a couple or go with a simple "Happy Valentine's Day, [name]!" message.
Custom Bottle Labels Can Help Make Your Valentine's Day A Success
Personalizing wine stickers could become a disaster if you take the DIY approach, so let Lightning Labels do the heavy lifting for you. We'll apply our digital wine label printing expertise to your request and deliver high-quality custom wine labels in rich, vibrant colors. Worried about getting your labels before the big day? Don't be - we offer 48- to 72-hour turnaround following digital printing press approval, so you can rest easy and celebrate Valentine's Day in style.
Request your FREE instant quote today.