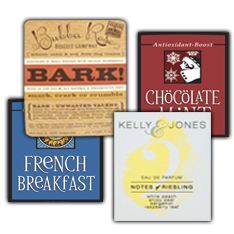 Product Description
Square labels are a staple of packaging and product marketing. Square labels come in a range of different dimensions to accommodate whatever organizational motto, brand logo or personal saying customers want to place inside those four lines.
And while squares may just be a simple shape, there are countless opportunities for customization thanks to Lightning Labels digital printing techniques that enable businesses and individuals to tailor their product labels to exactly their specifications: whether it be color, label material, laminate or size. When businesses have full control over their labels, it helps to create a cohesive branding strategy, driving sales and customer acquisition and square labels can be a key driver of such efforts.
How Using a Square Label From Lightning Labels Can Solve Problems
By extending full customization options and a range of services, Lightning Labels offers a unparalleled label-making experience:
Free ground shipping in the U.S. and Canada*
24-48 hour turnaround**
No set-up fees, no plate fees, and no added fees for unlimited color!
Free printed press proofs*** for all custom labels and sticker orders, in addition to PDF files
100% satisfaction guaranteed!
Squares have the unfortunate reputation among all other shapes as the one most closely associated with being lame or uncool.
But if there's anything we can learn from Huey Lewis and the News, we know the truth of the matter is that it's actually hip to be square.
Manufacturers, business and individuals alike can take that sentiment to heart by using a square label for whatever their needs may be. A square label would make perfect sense for, say, a company that makes sponges or a homeowner who wants to distinguish their recycling bin from their normal trash receptacle.
Regardless of the reason you need a square label, Lightning Labels, printing experts well-versed in the industry, stand at the ready to help you along every step of the way.
Square Address Labels a Perfect Resource for Homeowners
Besides using square labels for marketing, individuals can also use them as square address labels for their residence. And just like their own home, customers can fully customize their labels with features including:
Rounded or square corners
0.4-by-0.4-inch labels to 11.25-by-11.25-inch labels
Chrome BOPP and Satin Cloth
High Gloss or Matte finishes
And more!
A variety of different sizes, label materials and colors are available to choose from, as well as font and design elements.
Free Stickers and Labels Sample Pack
Lightning Labels offers full-color digital printing. Check out our custom label samples and sticker proofs for quality assurance and design ideas.
Click here to request your free sample
Lightning Labels has been servicing the printing needs of our customers for more than 10 years. We are extremely proud of our BBB rating (A ) and guarantee your experience with us will be a positive one.
Call us at 888-907-3004 today to place your custom square label order and watch sales skyrocket!
*on regular priced orders **following proof approval ***shipping charges apply