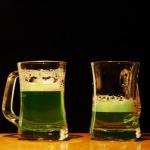 Change Up Labeling Strategies for St. Patrick's Day Marketing
With March 17 quickly approaching, craft beer makers should think about updating labels for St. Patrick's Day marketing. Designing personalized beer labels can increase your brand awareness this month. This mid-March holiday is a great opportunity for craft beer makers to draw attention to their products. As a celebration of Irish heritage, St. Patrick's day observers often turn to traditional Irish beverages to enhance their fun. While stouts, red ales and other Irish varieties of beer may have been the beverages of choice in the past, the increasing interest in craft beer means that any style can be targeted to these merry-makers. The most important thing is to think green. If pale ales, porters or even Belgian styles are your specialty, you can still take the opportunity to customize beverages for festivities.
Use St. Patrick's Day Stickers to Grow Sales
Draw attention to your products this March with St. Patrick's Day stickers. When consumers are browsing the beer aisle, remind them that St. Patrick's Day is coming up, and that your products would make a good addition to get-togethers. A lot of people celebrate this holiday, but some are more dedicated than others. While certain consumers may be imbibing a lot, other may just want a nice beverage to drink with their Irish soda bread in the evening. Keep this in mind when designing labels. If your beers have a high alcohol content, they may be better for a single drink. However, low alcohol content beers are better for people who plan to drink more than one for prolonged periods of time. Depending on your target consumers, the imagery you utilize could be less playful and more classic.
How to Ready Your Craft Beer Labels for the Holiday
How do you go about preparing craft beer labels for the St. Patrick's Day? For brands that are wondering how to customize beer labels so they will be noticed, the color green is the most important element. Shamrocks and leprechauns are other common images. Depending on your target market, you should switch up the imagery you use. For those connecting with their own heritage, Celtic symbols or images of the Emerald Isle will do the trick. On the other hand, your own labels may do just fine, particularly if you add a sticker that indicates your drink would be a good choice this March. Consumers will be drinking beer of all kinds; promote your beer as the best option, and it's likely that shoppers will agree.
Request your FREE instant quote today.