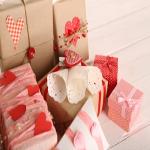 Custom Valentine's Day Labels Enliven Perfume, Candles and More
If you produce items that would make a great gift or romantic scene-setter for couples on Valentine's Day, you shouldn't leave it up to chance that people will associate your brand with the holiday. Instead, why not invest in custom Valentine's Day stickers or labels that will make the connection clear? The next few months will see a wave of shoppers taking to stores, faced with the pressure of putting together memorable presents and dates for their significant others. You can give these consumers an easy choice with your labeling strategy.
Love is in the Air
You can redefine your products to make them a hit for Valentine's Day. Labels and stickers make all the difference, guiding consumers in the right direction. Branding that mentions Valentine's Day directly could one-up other brands that don't invest in specialized packaging. This may prove especially relevant if you hurry - in February, people will be looking for last-minute presents. In January, you could act as an early reminder and help shoppers get ahead of the game. Imagine how grateful these buyers will be when February rolls around and they already have great presents put aside.
Perfume is one of the most natural gifts associated with Valentine's Day Custom labels for perfume can increase your brand's appeal. Perfume is a simple but elegant and romantic choice, provided it's packaged in a compelling and attractive way. Custom perfume bottle labels that look great and catch the eye can help you win hearts this Valentine's Day. You can even mention the holiday on a custom sticker that the buyer then peels off along with the price tag before handing the bottle over. The sticker is aimed at the customer and encourages a purchase. The label looks elegant and classy and ensures the gift is appreciated.
You can also apply holiday branding to items that create a romantic atmosphere. Try applying custom Valentine's Day stickers to your candle products, explaining what a great ambience they create at date-night dinners. This is a canny branding strategy for candle manufacturers, as shoppers may be getting sick of products branded with winter imagery after the holiday season and the beginning of the new year. Glistening snow fields that once seemed so charming now remind them that February and March are on their way. Why not swap out snowflakes and reindeer for a romantic image set? This could keep at least some of your offerings highly relevant for a few months following the holidays.
Order Now and Get Started
Your Valentine's Day marketing strategy can begin at any time between now and the holiday. Earlier is likely better, as you don't want to appeal only to last-minute shoppers. It's not too late to get started on a January-focused roll-out for custom labels and stickers, as you have the option of working with Lightning Labels. Lightning Labels ships orders from domestic facilities rather than outsourcing production, and it employs all-digital printing processes that allow customers to get what they're looking for in days, not weeks or months. It's time to start marketing to the lovebirds of the world.
Request your FREE instant quote today.