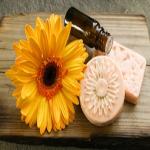 Show Off Your Work This January
January is National Hobby Month, meaning it's time to salute handmade items and crafts of all kinds. When your hobby becomes a small business, you need great-looking branding to show your pride in your crafting abilities. Whether you make candles, soap, craft beer, preserves, jelly, jam or any other kind of item, custom labels can catch eyes and draw attention.
You've put in time honing your craft and keeping your project alive over the years. Now it's time to ensure your handiwork earns recognition, whether you sell your products in major stores, at markets and fairs, or just to friends and family. It's never too early or too late to give a fresh, attractive brand identity to your crafts.
From a Hobby to a Career
Today, customers crave a handmade touch in their items - the authenticity and care that you put into your crafts may help them take off. Labeling requirements and strategies will vary based on the products in question, but there's no doubt that an attractive branding strategy can help you stand out. The following list is a far-from-exhaustive look at some crafting types that can turn into fruitful careers.
Candles: Creating candles is an especially appealing hobby in the winter months, when a candle can provide a sense of light, warmth and wellbeing in the midst of ice and snow. Using custom candle labels, you can play up the comfy nature of your products - while also giving vital safety info to show your customers you're looking out for them. You can even vary your strategy into something less snow-bound to keep going strong into spring.
Soap: The variety of textures, scents and colors you can base soaps around is near-limitless. As a hobbyist or small-business owner, you have freedom to produce small batches of soaps with fascinating attributes that will win customers over. Use your custom soap labels to describe exactly what goes into each bar and impress upon your buyers that they're getting an experience they won't be able to replicate working with huge brands.
Craft beer: Beer is perhaps the symbol of the craft goods craze of recent years. A taste for unique flavors in small batches has turned huge swaths of the population into beer connoisseurs. Global brands are turning to local breweries for inspiration instead of vice versa. If you're a small-batch beer producer, make sure your custom craft beer labels show off your regional and independent bona fides. Let people know that you're not a pretender - you're a real local brewer.
Crafts Deserve Great Labels
Whether you're looking for custom beer labels to draw in curious buyers or searching for a high-impact way to market your candles, Lightning Labels can help. Small producers just starting out don't have to worry about making minimum order cutoffs - because Lightning Labels is an all-digital printer, small batches of labels are affordable. January is getting underway, but it's not too late to act within the month: By using digital processes and working from domestic facilities instead of outsourcing, Lightning Labels is able to turn orders around in days, not weeks or months.
Request your FREE instant quote today.