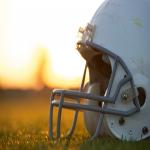 Use Window Stickers to Show Team Allegiance
The fall is near, which means a new season of sports is approaching, and window stickers are the perfect way for fans to show their allegiance to their favorite teams.
Autumn also means school is back in session, which translates into the start of the school sporting seasons, both at high school and collegiate levels. Additionally, the start of the football season is upon us, while basketball kicks off in another month. Of course, baseball fans have their eyes on the World Series as well.
That means pride will run strong through sports fans quite soon. Whether they support certain high school teams or regional professional sports clubs, fans often love to show which teams they root for. This is good news for product manufacturers, as sports fans spend a lot of money on team-related apparel and other memorabilia.
For example, a 2009 study conducted by the National Sporting Goods Association found that sports fans in the United States spent a combined $8 billion on sports apparel and other goods. Males accounted for the majority of sales at 60.9 percent, while women made up a significant 39.1 percent as well, illustrating that - regardless of gender - sports is something everyone can get into.
It does not matter whether they like football, baseball, NASCAR or some other athletic event - sports fans will spend big money to back their favorite athletes and teams. The average person spent upward of $725 annually, while young professionals and wealthy fans crested the $1,100 and $1,500 mark, respectively, according to the NSGA study. No matter which way you slice it, that is a huge chunk of potential revenue.
Custom Decals are Perfect for Avid Sports Fans
Businesses involved in the sports industry should look for ways to help fans celebrate their favorite teams and athletics. There are numerous ways to go about this.
For example, custom decals can be applied to cars, grills, coolers and windows to show off which teams fans support. For the careful sports fan, there are decals with special residue that allow them to be easily peeled off without damaging the underlying surface, so they can remove them after the season is done without concern (or if they want to jump ship and bandwagon another team after a disappointing season).
Custom Stickers For Party Decorations
Custom stickers are another way for fans to show appreciation for their favorite teams. Stickers can be placed on everyday objects like notebooks so people can show their support for their clubs regardless of where they go. Additionally, people can purchase stickers to use as decorations, which is perfect for throwing a party for the big game or celebrating sports in other ways.
Regardless of what types of custom stickers and labels brands need, printing companies such as Lightning Labels can help businesses create products that will help fans celebrate their favorite sports and teams.
Request your FREE instant quote today.