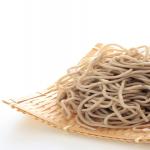 Vendors Put Safety Labels on Food Products After Inspection
The Taipei city government recently issued safety labels on food products to increase consumer awareness about a common food additive. According to The Taipei Times, the city government has started to investigate food and beverage vendors in food courts to ensure their goods are free of an industrial food additive. The vendors are now required to pass an inspection that ensures their products do not contain maleic anhydride-modified industrial starch, which is a chemical often added to food as a preservative and flavor enhancer.
Taipei City's Department of Health examined 465 vendors who sell the eight types of starch goods where the industrial starch is commonly found. Of the vendors, only 244 received the certification, according to The Taipei Times.
Small Custom Stickers on Food Certify Safety  The city affixes heart-shaped small custom stickers on certifications to ensure that the vendor's product is free of maleic anhydride-modified industrial starch. The Taipei Times reports that many times, the vendors are unaware the chemical element is present in their foods, and the city health department hopes the new measure will assist vendors in seeking compensation from illegal manufacturers.