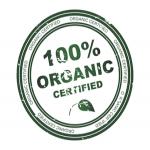 What Does the 'Organic' Label Really Mean?
Whenever consumers go food shopping, they come face to face with a visual barrage of product labels that provide information about everything from the geographic origin of an item to what it does - and does not - contain.
Over the past decade or so, organic products have gained considerable traction among a public that has steadily become more health-conscious. Since 2002, the United States Department of Agriculture has regulated the use of the word "organic" on stickers and labels, requiring goods to adhere to specific guidelines related to soil quality, additive usage, pest and weed control practices, animal care and more.
"There's a lot of integrity behind the label," Betsy Rakola, organic policy advisor for the USDA, told TIME. "Anyone who wants to sell or market or label their product as organic has to follow the USDA regulations. It's about the process and how the food is grown. That's the assurance that the seal provides."
Integrity in Question
Despite this level of stringent oversight, a number of consumers have begun to regard the organic label with skepticism, according to a recent study by Mintel. Among the 2,002 shoppers polled by the market research firm, more than 50 percent said they thought companies labeled their products as organic to give them "an excuse to charge more," TIME reported. Meanwhile, more than one-third of respondents said they believed the word "organic" had "no real value or definition" when used in the context of the food and beverage retail industry, and was in fact little more than a buzzword intended to set products apart from the rest and boost sales.
The findings of Mintel's research, based on surveys conducted in December of last year, showed consumer attitudes toward the organic label have undergone a significant shift over the past decade. As reported in the Journal of Extension, just 7.4 percent of shoppers polled in December 2002 and January 2003 said they had "no trust at all" in the seal, while 23 percent stated that they had "a little." More than two-thirds of participants in the study reported having either "some" or "a lot" of trust.
Why the Change?
Mintel concluded that manufacturers have not adequately communicated the reasons behind and benefits of buying organic products, nor sufficiently justified the added expense of such items.
Moreover, theorized TIME's Katy Steinmetz, the organic label "may also have lost credibility because of its close association with buzzwords that have little or no definition in the eyes of the government" - "natural" and "artisanal," to name just two.
In addition, Mintel analyst Billy Roberts noted that due to large corporations such as WalMart and Target jumping on the organic bandwagon, the price of organic products has fallen. This decrease in cost has been unnerving to some consumers.
"High prices were almost a certain reassurance to consumers that what they were buying was what had been promised to them," Roberts explained, as quoted by TIME.
So, what does this mean for companies that sell organic products? Simply put, the inclusion of the word "organic" on custom stickers or labels may no longer be sufficient for enterprises hoping to secure the business of health-conscious consumers. Companies may want to go into more detail, listing some of the tenets required for a product to qualify as organic in the eyes of the USDA, such as "additive-free" and "no artificial preservatives" to give shoppers more specific information and win their confidence.
Request your FREE instant quote today.