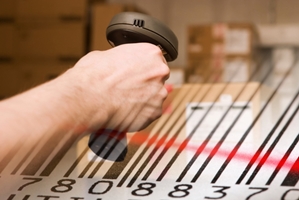 Digital Watermark Labels May Transform Traditional Barcodes Today, the inclusion of barcode labels on product packaging is a normal occurrence. These scannable stickers provide businesses across all industries with a way to significantly improve manufacturing and distribution operations, track and manage inventory faster and more accurately, and enable quicker transaction processing.
Now, a new innovation is being introduced to the market that has the power to take global supply chain capabilities to a whole different level.
The Wall Street Journal reported this week that Digimarc Corp., the manufacturer of invisible identifiers, is partnering with GS1 US to create digital watermarking codes that can be printed over the entirety of a product packaging, but can't be seen by the naked eye.
This label technology utilizes image-based devices with specific software that allows a person to interact with the item without actually having to directly scan a barcode label, the source explained. To identify the product, the code just needs to be in the general vicinity, which will ultimately help increase operations and production processes.
In its announcement, Digimarc indicated that the product identification will enhance engagement and build stronger relationships between retailers and consumers.
The Digitalization of Product Packaging "A conventional package may have one bar code, or multiple bar codes in a high-volume retail environment," Bruce Davis, a Digimarc executive, told The Wall Street Journal. "So instead of having six bar codes ... you can have hundreds of bar codes on a package, all imperceptible to the consumer, and readily identified to the scanner."
To put it simply, the advanced capabilities of these watermark labels would provide companies with larger amounts of information on each product. But this isn't the only advantage that differentiates them from traditional counterparts.
Companies interested in using these digital codes on their products will have to be approved by GS1, the unit responsible for handling business registrations for UPC barcodes, the source said. Before now, registering global trade identification numbers, also known as GTINs or serial numbers, was not required. This caused a lack of consistency, which led to variations in item details as they traveled along supply chains.
The Wall Street Journal added that this new system will provide business owners with better control and consistency throughout different channels. And it won't just benefit companies, either. Consumers will also be able to "scan product packaging through smartphones and look up the information originally registered by brand owners or manufacturers."
However, it is unclear how soon this labeling technology will be adopted by mainstream markets since, as the source pointed out, there are a number of adjustments businesses will need to make to support the effective implementation of the digital watermark, including software and hardware updates and special scanner devices.
Request your FREE instant quote today.