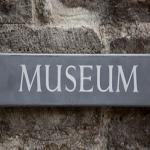 The Met Uses Round Stickers for Admission Ticket System
The Metropolitan Museum of Art, a New York landmark and world-famous museum, is supplanting its colorful tin tickets with round stickers. According to The New York Times, the Met introduced metal admission tickets in 1971, and the tin tokens have been a beloved symbol of New York City for many residents and tourists ever since. However, due to the need to cut costs, the Met decided it would be more affordable to let go of the iconic tickets and turn to custom stickers instead.
Cheap Custom Stickers More Affordable for Museum  The New York Times reported the cheap custom stickers are part of recent changes to the museum, which also includes staying open seven days a week instead of closing on Mondays. Although Met administrators understood that they needed to find a less expensive option to the three-cent tokens, many still said it was hard to let go.
Harold Holzer, senior vice president for public affairs at the Met, told The New York Times that it will be a difficult transition, but the new stickers were the right way to go.
"We realize, without sounding crass, that it's a beloved brand and a beloved symbol," Holzer said. "It just became too expensive. We saw that it was inevitable."
Request your FREE instant quote today.