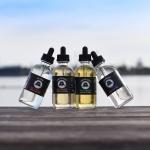 The Schwartz turns yogurt into tasty vaping treat
With names like The Upside, The Downside, & Comb the Desert, The Schwartz has helped place the taste of yogurt squarely on the palate of e-liquid aficionados.
A need to stop smoking caused principal Huy Nguyen to spend months of research and development to create a unique, handcrafted yogurt-based line of e-liquids. In addition to The Upside and The Downside flagship flavors, which are "tasty all-day vapes and fan favorites," Comb the Desert and a new entry, Ludicrous Speed is more complex and intense, according to Huy.
Spurred on by popularity generated through personal visits to many shops, positive word-of-mouth and favorable social media reports, The Schwartz decided to expand the selection with two non-yogurt lines featuring combinations of intense fruit flavors, Naked 100 E-Liquid and Unicorn E-Liquid.
Huy attributes initial success and repeat business to the novelty of the yogurt flavors. He points out, "We were really the first ones to release a yogurt line. People want new interesting flavors to add to their collection and The Schwartz did just that. Not only were the flavors new and interesting but the taste and quality of them stood out to people, which has allowed us to continue growing."
Relationship with Lightning Labels, the Vape Products Label Specialist
Notes Huy, "Labels play a huge role when it comes to product presentation and attractiveness. We wanted the bottles and labels to reflect our product, so they had to be made beautifully and of quality material. It was really important to us that our labels be water-resistant, because being vapers ourselves, we realize that liquid can drip down the side of the bottle, so we wanted our labels to withstand that and be preserved. Lightning Labels has helped us by always providing fast quality service for a great price. Lightning Labels always works to get us our labels fast, especially when we have to place emergency orders."
Request your FREE instant quote today.