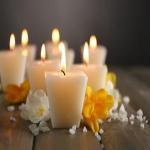 Putting labels on your candle products isn't just important from a branding perspective. There are safety label designs overseen by the National Candle Association. The trade group recommends that consumers limit their purchases to candles that have safety warning panels in place, underlining the fact that your brand should be including these packaging elements on all its candles labels.
When designing candle labels, the choice of candle label materials are an essential part of the process. A well-made candle label will hold up under heat, staying legible and conveying the three essential safety lessons for users: to burn their candles within sight, to not place them near combustible items and to keep kids clear of the candles.
Don't Go It Alone
Getting the right candle label materials is too important to leave any room for error. That means you should work closely with experts at your chosen labeling partner. Lightning Labels has served the candle sector for years now, and can apply that experience to helping new clients with their candle-labeling needs. Once you have guidance, it's simple to pick between the many materials and finishes offered by Lightning Labels, each with its own look and feel that will appeal to customers.
The ideal label materials for your brand's candles will be determined by a variety of factors, such as the shape of the candle and whether the label is applied to the side or bottom of the candle packaging. A circular glossy label that fits on the bottom of a candle wrapper won't call for the same material and finish as one that's stuck to a glass jar containing a candle.
Think About a Unique Look
Once you've worked with an expert label provider to ensure your candle labels won't succumb to heat and will be safe for customers, there are other considerations that go into picking the perfect candle label material. Matte finishes have an interesting texture that can seem more natural or modern, while glossy lamination is a more conventional product labeling style and can be a versatile choice to suit a number of branding strategies. There are many ways to sell candles, from using bold two-tone iconography to appealing to senses of coziness, complete with full-color imagery.
Starting with an aesthetic goal for your candle brand and then making material and finish choices accordingly is a great way to convey a compelling marketing message. If you sell products other than candles, you can bring the whole line together visually by matching candle packaging to the line as a whole. Whether that means using a white label material that accepts printing in all colors, going with a clear polymer for a minimal look or opting for a compelling metallic version, the potential exists for great branding.
Maximize Your Label Order
Once you've picked a safe and visually compelling material and finish for your candle packaging, it's time to order those labels. When you work with a digital printing partner such as Lightning Labels, you're not tied to a high minimum order size, so you can confidently receive just as many labels as you need.
Request your FREE instant quote today.