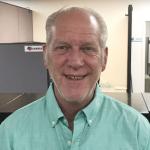 Like the Hubble Telescope, Lightning Labels Account Manager Randy Perkins can look back into the origins of the universe. Instead of space, however, his focus is the now fully-formed world of digital label printing.
Eleven years ago, when he started working at Lightning Labels, Randy witnessed the early-day evolution of a technology that today is a mainstay of the label printing business. "When I started here, we were the only company around with digital presses. Now we maintain a state-of-the-art stable of digital presses and are printing around the clock."
He points out that the company started trends in other areas, as well. In the early 2000s, Lightning Labels became an early adopter of both search engine optimization (SEO) and search engine marketing (SEM) technologies—which helped land the company twice on the Inc. 5000 fastest growing companies in the US list.
The company also became known for its prime directive to provide consummate customer service. Randy ought to know. He lives and breathes it. "It's actually very gratifying," he points out. "In reality, our customers are so cool. They just want to help."
Randy's perspective is the result of identifying and practicing a very basic tenet of making people happy. "People do business with those they like. It really is that simple. I make it a point to be likeable, available and tuned in. I put myself in their shoes, then make sure I walk that extra mile to help—whether it's a routine request or making a seemingly impossible deadline possible."
By all accounts, Randy's system works very well. "Our longtime customers are accustomed to our service culture. But, first-time customers often can't believe the service and speed, especially when they've come here from another company that didn't meet their needs," he emphasizes.
Sometimes those needs fall into the extra credit category. Randy says he's hearing increasing reports of product manufacturers victimized by counterfeiters. To help stem the problem, he and his co-workers are involved in efforts to develop a bulletproof track and trace label system. Featuring a small digital ID on each container (even those with really small labels), track and trace provides a way to spot phony products simply by downloading a simple app that will read the digital ID and verify authenticity. It's also valuable as a way to enhance supply chain tracking. Expected over the next several months, track and trace offers an important new way for manufacturers to protect their customers.
He says, "Counterfeit product problems can range from inferior quality to life-threatening consequences of ingesting a food item, beverage or medication with non-authentic ingredients. Equally bizarre, the LA police department seized upwards of a million dollars of counterfeit makeup last year containing 'high levels of bacteria and feces.' Enough said."
Randy's work philosophy can best be summed up by the adage, "Do a job you love, and you'll never work a day in your life."
Request your FREE instant quote today.