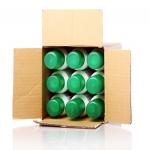 Summer is Right Around the Corner
If you sell nutraceutical products, you're likely preparing for one of the busiest times of the year, as summer will lead many consumers to purchase items that help them boost their health and drop their weight. If you manufacture these products, you should be changing up brand packaging at the end of each season to stay on the same page as your customers and prospects, essentially ensuring that your business always makes sense in their eyes.
With spring waning and summer on the horizon, now is a great time to update product packaging with custom nutraceutical labels. This industry has become increasingly saturated, especially given how much demand there is for these types of items, and product labels will represent a significant battleground. When it comes to competing with other manufacturers on the shelves of stores, nutraceutical labels will play a major factor, and updating yours can make a big difference this season.
Now, it is worth mentioning that the product's benefits and nutritional values need to be clearly and accurately represented on the labels. Building off of the characteristics that best differentiate your brand from others will lead to a finished design that represents your company, its product's strong points and the demands of your prospective customers. To adjust for the season, you'll want to adjust the background imagery, color schemes and other aesthetic elements of design to align with the weather and activities.
Remember here that a bland, run-of-the-mill design strategy will simply not get the job done when it comes to attracting new prospects and retaining long-standing clientele. Think outside of the box, and allow your marketing and product management teams to really stretch their legs when establishing summer-themed designs for your nutraceutical labels.
Customize on the Right Materials
Custom nutraceutical labels can be an exceptional way to drive brand visibility, but do not lose sight of the environments in which these products will be used this summer - many of which will be outdoors. You can print your custom designs on durable labels that will withstand the elements and keep the packaging looking clean and fresh throughout the season.
Lightning Labels offers lightning-fast completion of orders, and custom label services that can be printed on more durable and weather-resistant materials.
Request your FREE instant quote today.