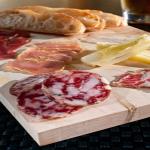 Canada Unhappy with US Requirements for Food Product Labels for Meat In February, President Barack Obama mandated that food product labels for meat items display country of origin information. According to Canada's International Trade Minister, Ed Fast, this new regulation is harmful for Canada's meat-producing industry. In a press conference, Fast said Ottawa will do "everything we can" to fight against the U.S. law. First introduced in 2008, the law requires meat producers to include where the animal was born, raised and slaughtered on custom product labels, Canadian Manufacturing reported.
New Requirements for Custom Food Labels Could Raise Manufacturing Costs While proponents of the new custom food labels requirements say they will allow consumers to make more informed choices, meat producers have a different perspective. According to Fast, the changes could cost the Canadian pork, beef and cattle industry $1 billion a year, The Canadian Press reported. Because U.S. companies don't have the resources to sort meat sourced from Canada separately, many of them are dropping Canadian producers entirely. Canadian meat exports to the U.S. have dropped dramatically, according to the newspaper, and many Canadian businesses believe the new U.S. law could be the reason.
Request your FREE instant quote today.