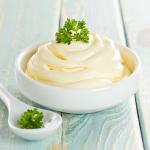 Just Mayo, a vegan mayonnaise product, has run into some legal trouble in recent weeks. The New Jersey Law Journal reported that Unilever, owner of popular mayo brands such as Hellman's and Best Foods, filed a lawsuit against Just Mayo for false labeling. While Unilever quickly withdrew the suit against Hampton Creek, that does not mean Just Mayo is out of the woods yet.
Hampton Creek founder and CEO Josh Petrick said the company will not be substantially changing the product's label or how it is advertised. However, the size of the word "just" may be increased to promote transparency.
Unilever had numerous problems with Just Mayo's label, notably the claim of superior taste but also with the classification of the product. Because of the use of certain ingredients, Unilever claimed the spread could not be called "mayonnaise" at all and that doing so meant the company was engaging in false advertising in violation of the Lanham Act.
Unilever withdrew the suit and applauded the Hampton Creek's quest for innovation, but the company was concerned about some of the labeling claims and urges Hampton Creek to label products more appropriately moving forward.
Avoiding Litigation (and False Claims) While Hampton Creek ultimately suffered no losses from this lawsuit, it does show how easily companies can come under fire for false claims on custom labels.
Whether firms are relaunching an old product or rolling out a new item, it is crucial they go over their labels with a fine comb to ensure no mislabeled products come to market. They may wind up being targeted by lawsuits otherwise, which can be extremely costly in the long haul.
Request your FREE instant quote today.