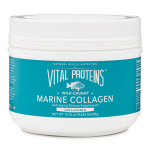 Our forebears consumed plenty of collagen—a basic protein building block of hair, skin, bones, joints and nails that makes up nearly 70% of our bodies—through whole-animal nutrition. As with so many other foods, modern food processing has removed much of this protein from our diets.
Since 2013, Vital Proteins' collagen products have worked "from within to rebuild and restore, nurture and enhance," notes spokesperson Shannon Race. She adds that the objective is to, "help you feel younger, run farther, recover faster, and most importantly, live each day as the best version of yourself." This is particularly important as we age because natural collagen production declines after 25 years of age. The company's first product, still a foundation of its offerings, was Collagen Peptides, an odorless and tasteless supplement easily dissolved in hot or cold liquids.
Shannon emphasizes product purity, noting that Vital Proteins products contain "no additives, no fillers— just clean, responsibly-sourced ingredients packed with proteins that revitalize the natural health of our skin, hair, nails and joints, aid in digestive and cognitive function and even boost athletic performance."
To spread the word, the company started with grassroots marketing—attending trade shows and creating an affiliate program with digital influencers. Complementing these efforts is dynamic product presentation that has helped Vital Proteins labels stand out on the shelves next to competitors.
Relationship with Lightning Labels, the Nutraceuticals Label Specialist
Notes Shannon, "Lightning Labels has been an extremely reliable resource for us - especially as it relates to last-minute marketing needs for trade shows and expos. Certainly quality, efficiency and consistency are a few of the words that best describe the relationship we've developed with Lightning Labels. There have been quite a few times Lightning Labels has come through in a clutch for us. When in need of expedited service, we always know we can rely on them!"
Request your FREE instant quote today.