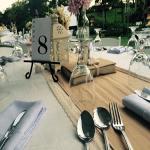 Design a Wedding to Remember with Custom Labels
Do you have a wedding coming up this spring or summer? Maybe the proposal happened on Valentine's Day or around the turn of the new year, and planning is ramping up. You no doubt want to ensure your guests have a wonderful time and take home good memories of the day. One way to ensure the ceremony is visually stunning and memorable involves the use of custom labels for wedding favors. Your guests will be amazed at the professional-quality customized items at their tables or in their gift bags, from candles to bottles of wine or champagne and beyond.
Create a Spectacle
No matter what kind of design theme your wedding has, you can play into it with well-chosen custom labels. The blue of the sea for a beachfront wedding, the pink of blooming flowers in the spring, a classy gold motif any time of year, the traditional white-and-black look - these are all possibilities. Not only are there an infinite selection of palates to choose from, you can apply labels to a wide variety of items, all depending on what you'd like to hand out for your wedding.
Bottles alone encompass a range of possibilities. You can order bottles of wine for each table at the reception and spruce them up with custom wine bottle labels that match the decor. Alternately, you could employ custom champagne labels that will make the toasts seem a little more special. If you don't want to coordinate your wine or champagne, you can also opt for custom water bottle labels. These can go on the tables at dinner or be on hand when guests take to the dance floor at the reception. People can take the bottles home as souvenirs of the big day, with the couple's names and the date printed right on the labels.
Custom candle labels are another option with the potential to either spice up the look of the ceremony or to go home in gift bags. If you want a ceremony illuminated by candles, why not go for jar-style candles with custom labels? Or, if that doesn't fit into your plans for the big night, you can still employ those candles as keepsakes that guests take with them. They'll remember how much fun they had at the wedding when they light the candles, and potentially keep the jar as a memento for a long time afterwards. Many types of home goods can be spiced up with custom labels - candles are just one example.
Time to Order
If you're planning a wedding now, you obviously know how chaotic and stressful this process can be. Anything you can cross off the checklist is a real victory, so you should waste no time in getting your label plans squared away. Lightning Labels can help in this regard, providing a quick response to your custom label queries and turning your order around in a hurry due to its all-digital printing processes. These same methods enable Lightning Labels to provide affordable small batches of custom labels, meaning you won't have to break the bank to make your ceremony look great.
Request your FREE instant quote today.