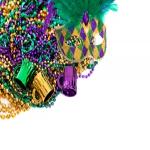 Upcoming Holidays Call for Custom Stickers
When a holiday invites celebration and colorful displays, custom stickers are a great choice to spice up your party or workplace. With Mardi Gras and St. Patrick's Day both approaching quickly, it's time to think about whether an order of custom stickers is a good way to make your products, workplace or party favors seem more colorful, exciting and fun.
Mardi Gras is On The Way
February will close with a party this year, as Mardi Gras falls on the 28th. You can celebrate "Fat Tuesday" anywhere in the world - in fact,  people inparts of the country that are still cold and gray in February could probably use the festival more than anyone. There is a whole host of bright carnival imagery and vibrant colors that can turn an average office environment into a mini Bourbon Street, and the resulting dose of festive life can help the winter feel like it's passing a little quicker.
Whether you're organizing a theme party or preparing your company for a seasonal promotion, Mardi Gras stickers are a good way to promote the day. If you're based in or near Louisiana, the carnival can become a point of regional pride and local color. If not, you can add a dash of New Orleans' festive flavor to your February.
St. Patrick's Day is Up Next
Once February is in the books, March will roll along, and with it, St. Patrick's Day. If you're in a region with a strong Irish heritage, you're likely used to parades and big public celebrations. Even if not, you can add a little luck of the Irish to your own business promotions or parties in March. The imagery associated with the holiday, based around vibrant green shamrocks, makes a great subject for St. Patrick's Day stickers. Using these custom stickers to spice up the premises will help ring in the spring.
Days to Celebrate
Stickers aren't right for every occasion - some of the the events on the calendar are too somber or niche to be right for promotions or celebrations with stickers. However, the winter and spring are full of events that are prime times for custom stickers. Both Mardi Gras and St. Patrick's Day lend themselves to parties, and come ready with years of history and bold imagery to pick from. Whether you're just organizing a big celebration or want to make these holidays part of the seasonal promotion calendar for your business, custom stickers are a great bet in both cases.
Order Soon
Lightning Labels, true to its name, is defined by its lightning speed. This means that you can order now and have your stickers for the upcoming holidays, and with time to spare. Whether you're in an area where Mardi Gras or St. Patrick's Day are huge items on the calendar or you're importing these days to add some fun to your winter and spring, custom stickers from Lightning Labels are the way to go. Lightning Labels' all-digital processes mean minimum order sizes are low, quality is high and turnaround times are brief. That adds up to a great custom sticker partner.
Request your FREE instant quote today.